HP LaserJet Pro 4001n is an excellent laser printer with professional quality black&white printout and blazing fast printing speed. Besides, HP Smart printing management system and large workteam Solution can help you complete printing tasks efficiently. If you intend to buy a monochrome laser printer for document printing, HP 4001n is a good option for you. Focus more on your business, this HP printer takes more in fewer steps to complete office works. This printer review will introduce its features and functions detailly, please continue to read the rest of the blog post to learn more.

Introduction of HP LaserJet Pro 4001n
HP LaserJet Pro 4001n is the latest laser printer model that release on August 1, 2023. This printer has small size and light weight, so it is convenient to move it anywhere in the room. Place it on the desk in heady, you can easily get the printed paper after waiting for seconds. Though the printer only prints white and black output, it is enough for daily document printing works. So, as a small monochrome laser printer, HP 4001n is more suitable for a small team and home office.
| | |
| --- | --- |
| Dimensions (W x D x H) | 15 x 14.06 x 8.5 in |
|  Weight   | 18.12 Ib |
HP 4001n delivers first-class printing results. With the upgrade of HP printing technology, the resolution of HP 4001n reaches 1200 x 1200 dpi(dots per inch), which can print crisp, sharp, clear black text and professional quality. The peak business printing performance is more suitable for high-quality documents such as business proposals requiring a more professional printing effect. In addition, the printer provides three resolution options, HP FastRes1200, HP ProRes1200, and Economode. The printing performance varies based on the resolution setting. To learn the difference between the three solution settings, please read Understanding print quality settings.
| | |
| --- | --- |
| Resolution (black) | 1200 x 1200 dpi |
HP 4001n has a fast printing speed. When turning on the printer, the first page output will deliver as fast as 6.1 seconds. More importantly, it is able to print up to 42 pages per minute matching with the HP 148A and HP 148X. Don't need to wait for a long time, and the printer can complete all the printing tasks in time, especially for emergency document printing. Its productivity with fast speeds will give you a satisfactory printing experience.
Though monthly duty cycle of HP 4001n is up to 80,000 pages, the long working time with high intensity easily results in the deterioration of internal parts and performance degradation. So, we advise you to print within 750 to 4,000 pages monthly to ensure normal printing performance in the future.
| | |
| --- | --- |
| First page output (ready) | as fast as 6.1 second |
| print speed (black) | Up to 42 pages per minute |
| Monthly duty cycle | Up to 80,000 pages |
| Recommended monthly page volume |  750 to 4,000 pages |
HP LaserJet Pro 4001n provides three types of mobile device connection software: HP Smart App, Apple AirPrint, Mopria Certified. It supports print on iOS system, Android system,window system and other systems. You can download the supported software that is compatible with your mobile device. After installation, you can connect with HP LaserJet 4001n to print document anytime.
| | |
| --- | --- |
| Compatible operating systems |  Windows 11, Windows 10 , Windows 7, Android, iOS , Mobile OS, macOS 10.15 Catalina, macOS 11 Big Sur , macOS 12 Monterey, Chrome OS |
Why Do HP 4001n is Worth Buying?
As we mentioned above, the printing speed of this printer reaches up to 42 pages per minute with shorter warm up time. It can complete all the printing tasks in a short time with high-quality output. If you always have too much printing works daily, HP LaserJet 4001n at a blazing fast speed will be a good assistant for your work.
HP LaserJet Pro 4001n supports HP Smart service. HP Smart is the HP special printing management software which cuts down operation steps to maximize printing productivity. Assistant with the HP Smart, you can easily print, copy, scan and fax with fewer steps after connecting with your printer. Send the file from your mobile device, you can print from anywhere through the HP Smart app. Besides, This HP printer supports workteam connecting with up to 10 users. The team members connect the printer to their device, and it will print crisp black text and images conveniently. Match with HP Smart, the comprehensive and high-efficient printing management help you save time with Shortcuts.
HP LaserJet Pro 4001n Toner
Up to now, the HP LaserJet 4001n is equipped with two toner cartridges for printing: HP 148A and HP 148X. HP 148A is a standard yield toner that meets your need for fewer pages, while HP 148X is a high yield toner that meets your need for more pages. Install one of the two toners into your printer, it will produce darker and clear monochrome text and images. It is important to notice that only matching with one of the two toners ensures your HP 4001n print normally.
How to Install HP LaserJet Pro 4001n Toner?
Before installing a new HP LaserJet Pro 4001n toner into printer, please choose HP 148A or HP 148X compatible with your printer. The installment steps are listed below for your reference.
1. Open the cartridge door and take out the used toner from the printer .
2. Gently shake the new cartridge horizontally back and forth for seconds .
3. Unpack the new cartridge and remove the protective plastic cover, then pull out the sealing tape from the new cartridge.
Caution: You better open the new toner over the sink or trash in order to avoid messy power results for toner link. Make sure that you do not touch OPC with your hand. Make sure that you have removed entire the sealing tape .
5. Install the new toner cartridge into its slot and push until it clicks into the right place.
6. Close the cartridge door, and then your printer is used to print.
What Is the Difference Between HP 148A and HP 148X?
The main difference between HP 148A and HP 148X is page capacity. The two HP toner cartridges belong to HP LaserJet Pro 4001n toner. HP 148A is a standard yield cartridge that prints up to 1500 pages, while HP 148X is a high yield cartridge that prints up to 9500 pages. Except for the amount of powder, the two are the same in appearance and printing performance. You can choose one of the two based on your real need for pages.
How to Install HP LaserJet Pro 4001n Driver?
Printer driver is support software that translated instruction from the computer side into language recognized by the printer, and allows printer properly print the translated file. In other words, Printer driver plays a translator role to communicate between computer and printer. If the computer doesn't install printer driver, the printer cannot be recognized instruction send from the printer and is unable to print.
Different systems match specific printer drivers, if you don't know how to download the driver matching your computer, please click HP Support to research the specific driver according to your computer operating system. The Download and installment steps for HP LaserJet Pro 4001n driver are listed below for reference.
1. Click Support & Drivers on the HP official website and then click Drivers & Software navigation option. When you enter the page it will appear the four icons below, and then click Printer icon.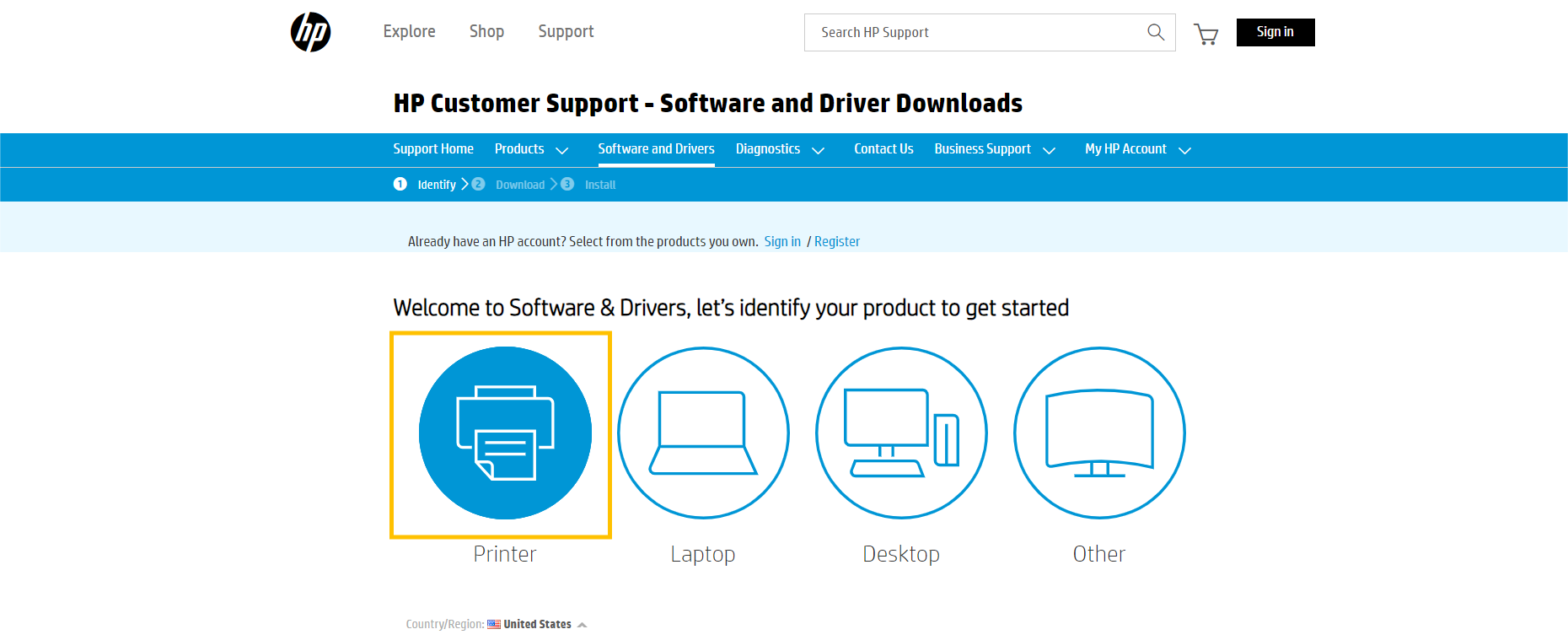 2. Research for your product number(HP LaserJet Pro 4001n) in the space provided, and click submit to jump to the download page.


3. Choose Driver-Product Installment Software option, and then click download so as to be ready to enter download page.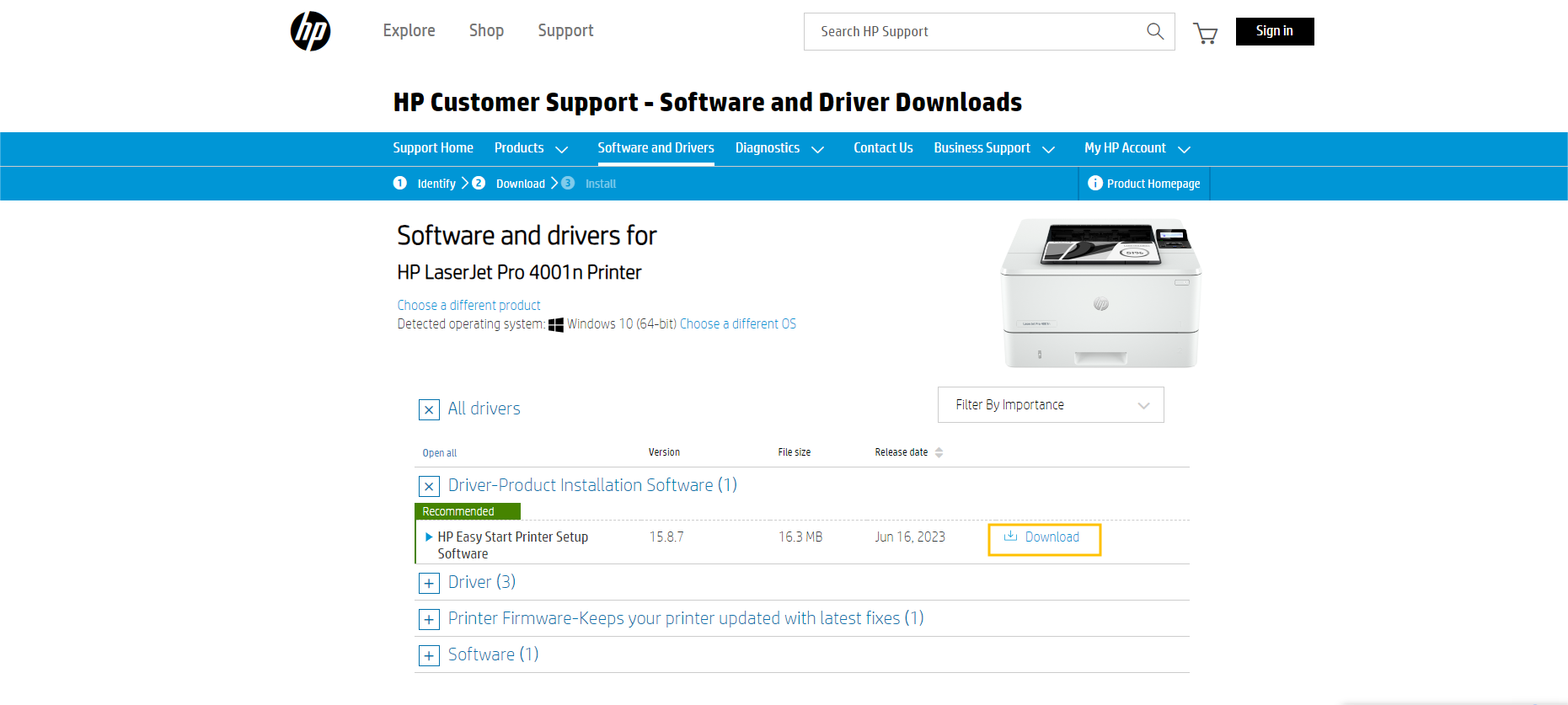 4. When you jump to download page, it will appear a download window waiting for seconds. Select somewhere on your computer to save the file and click Save to download the driver.
1. Find the folder with download driver, and then Double-click the file to ready to install driver.
2. Wait for seconds, the system enter the preparing installment process. Accept the license agreement and click Next to continue with the installation process.
3. Choose the option you want to install and choose the software and driver you have installed, then click Next to enter to installment process. After a few seconds, the driver has been installed into your computer.
HP LaserJet Pro 4001n with fast speeds and reliable printout is an excellent business printer. If you are looking for a printer that only prints monochrome output, this HP printer is a considerable option. It is no doubt that its maximum productivity with fast speed will help you save more time and toner. Leave a comment below for any further questions.