Many people have trouble printing from iPhone to HP Airprint printers. This is normal because we don't usually print on iPhone. As usual we print on Mac. Besides, IOS system is completely different from Android system or other systems. So, it might be a little difficult for new Apple users to print on Apple devices at the first time. But don't worry. In this blog, we are going to guide you how to print on iPhone.

Thanks for the Apple Airprint technology. It makes printing on iPhone a piece of cake. In the case that many HP printers have Airprint function now, you can connect your iPhone to HP Airprint printers and print pictures or files without needing to installing additional drivers or softwares in your iPhone.
 So next, let's explain what is Apple Airprint technology first. Then we will guide you how to print from iPhone to HP Airprint printers.
What is Apple Airprint technology?
Airprint is an Apple technology that allows applications to create printouts with splendid printouts through Apple's driver free printing architecture. All IOS and MAC built-in apps that support printing use airprint. MacOS is Apple's computer system, while IOS is Apple's mobile phone system. Use WiFi as a medium, you can connect directly to an airprint compatible printer. Or you can connect to an incompatible shared printer from a computer that the system is Microsoft Windows, Mac OS, or Linux. Airprint was originally used for IOS devices. It is only connected through WiFi network, so WiFi access point is necessary. However, this situation has changed since the introduction of MacOS by airprint in 2012. Users in nowadays can also print by using airprint protocol.They can not only connected through WiFi, but also connected to the network through Ethernet.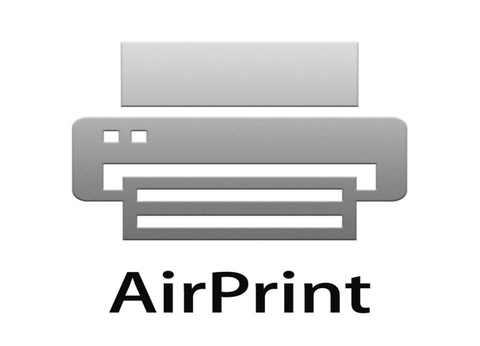 Some points you need to notice before printing:
1.Verify whether the IOS device is running the latest version and whether the app you print from is the latest version.
2.Verify that the latest version of firmware is installed on printers that support airprint.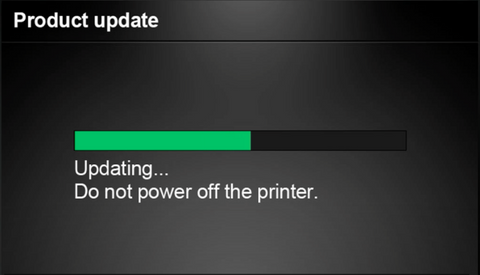 As for that, we will list the HP printer models that support airprint in the following text.
3.When using airprint, some printer features or functions such as red eye elimination, manual printing may not be available.
4.Apple does not support unlicensed products that claim to support IOS printing.
5.Please do not connect the printer that supporting airprint to the Apple airport base station or the USB port of Time Capsule. This will enable traditional "Airport printing" in the Mac, but will not enable the airprint function of IOS devices. If you cannot use WiFi networking to connect a printer that support airprint, use Ethernet to connect a printer that support airprint to an Apple Airport base station or Time Capsule.
6.After you turn on the WiFi printer, it may take several minutes to join the WiFi network. Before attempting to print, please make sure the printer is connected to a WiFi network.
How to connect your iPhone to HP Airprint printer and print?
1. Setup your printer network
Please check if your HP printer and iPhone are connected to the same wireless network.
(1) On iPhone, make sure you turn on the WiFi and there is a check mark next to the local WiFi network name. If you connect to another network, please click your network name to join.
(2) Check the printer network connection status.For the printer, the operation mode with and without touchscreen control panel is different.
① Printer with a touchscreen control panel: Touch the "Wireless" button or tap the "Network Settings" or "Setup" menu to view the network connection status.
② Printer without touchscreen control panel: Press the "Wireless" and "Information" buttons at the same time. Or press the "Wireless" and press "Start Copy Black" buttons at the same time. A Wireless Test Report text will show you the network connection status.
(3) Place your HP printer within the range of the WiFi router signal and connect it to the wireless
Printer with touch screen control panel: Open the "Setup", "Network" or "Wireless settings" menu, select "Wireless setup wizard", then follow the steps to select the network name and connect to it.
Printer without touch screen control panel: Press and hold the "Wireless" button for five seconds or until the wireless light starts flashing. Within two minutes, press and hold the "WiFi protection settings" button on the router until the connection process begins. After the connection process is over, the printer wireless light will stops flashing.
2. Print from your iPhone
Before you start printing, make sure you turn on the printer and install the cartridge correctly. Also, place your paper in the right paper tray.
1. Open the picture you want to print in the album, and then click the share icon.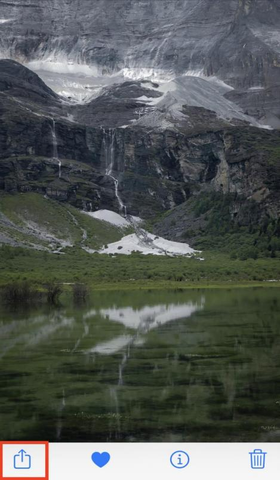 2. Next, select "Print".
3. Then, you can select your printer model and choose the print quantity and paper size you want.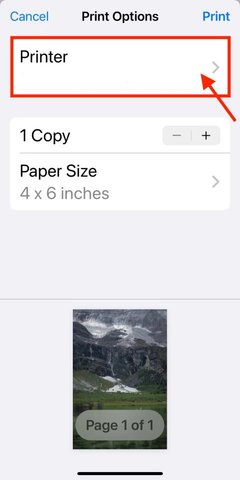 4. Finally, click "Print" in the upper right corner, and your HP printer will complete the print job for you.
How to deal with the situation of unable to print?
If you cannot print, please check if your printer is online.
See how to get printer online
.
If your printer shows "
No Airprint Printers found
", try the following methods.
     1.Make sure there is enough paper, ink, or toner in your HP printer.
Make sure the printer and IOS device are connected to the same Wireless network.
Make sure the printer is powered on and turned on. Try turning the printer off for 30 seconds and back on to see if you solve the problem.
Check to see if there are any error LEDs or indicators on the printer's control panel. Review the document that came with your printer to eliminate any errors that appear.
Notice: Contact the printer manufacturer to see if there are any firmware updates for the printer. For more information, check your printer's document or contact your printer vendor. Even if you have just purchased a printer, a firmware update may be still available.
HP Airprint Printer Models
Many HP printers have the function of Airprint. And the printer models are constantly updated. We have compiled a model list based on information from HP's official website and Apple's official website.
See HP Airprint Printer List.
However, not all printers on the list is available now. HP will release new printers in almost every year. In the meantime, they will stop production and sales of old printers with same functions. That why you can not find your used printer in the market even though it's a good printer.
Below are some featured HP printers with Airprint function. You can choose the most suitable one according to your own needs. They are available in many marketplaces, like HP.com, Costco, Bustbuy, Walmart, Amazon, etc.
HP LaserJet Printers:
HP LaserJet Pro M404n
HP Color LaserJet Pro M454dw
HP Color LaserJet Pro MFP M283fdw
HP LaserJet M209dwe
Color LaserJet Pro MFP M182nw
HP InkJet Printers:
HP OfficeJet Pro 8025e
HP DeskJet 4155e
HP ENVY 6055e
HP DeskJet 2755e
HP DeskJet 3755
HP OfficeJet Pro 9015e