Printer Review: HP Color LaserJet Pro M452dn Printer
Printers are essential office machines for our daily work. After experiencing the epidemic, home office has become the norm in life. Choosing a best printer that suits us is very important for us.
There are various factors to be considered when we choose a printer, including the price of the printer and toner cartridge, the printer's printing speed, the network connection procedures, and the product's warranty. At the same time, we need to consider the availability of cheap toner and how long and frequently the printer can be used.
In this blog, we are going to introduce HP Color Laser Jet Pro M452dn, an outstanding laser printer for small office or home office.
About The HP Color Laser Jet Pro M452dn
HP Color Laser Jet Pro M452dn is a muti-functional printer with great printing performance. That ensures that our daily printing jobs can be completed efficiently and perfectly. M452dn provides great printing quality with 600 x 600 dpi or 38,400 x 600 enhanced dpi print resolution. The printing speed of this printer is also excellent. It produces 28 pages of color document or 24 pages of black text document in every minute. Original HP Toner cartridges with JetIntelligence are specially engineered to help your HP Color Laser Jet Pro M452 work faster and produce 48% more pages. In addition, it provides Hi-Speed USB 2.0 port and Ethernet 10/100/1000T network. HP Laser jet Pro M452dn also has a built-in 2-inch monochrome graphics display. It might take some time to adapt and access the functions you want, but it is easy to use and read.
Print Quality
"High-quality color printing-- Create brilliant color documents that make an impact— right in the office." The test results prove that the print quality of HP M452dn printer is as advertised by HP. In particular, the color print quality of this printer is almost the best among so many laser printers of other brands.
Here are some copies of test page printed by HP color laserjet m452dn: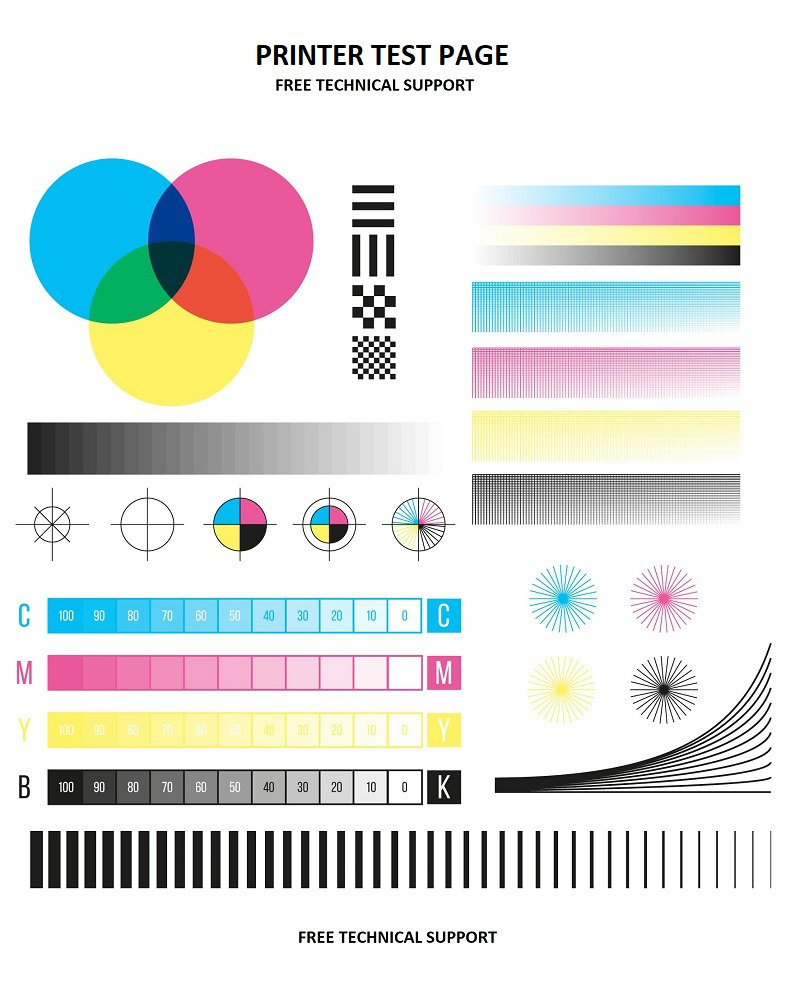 Cartridge
New M452dn machine comes with a set of original HP 410A toner cartridges (Also known as CF410A, CF411A, CF412A and CF413A). These cartridges are with standard page yield- 2300 pages for HP 410A black and color toner cartridges.
When the original HP 410A toner is exhausted, users can replace them with HP 410X toner cartridges (Also known as CF410X, CF411X, CF412X and CF413X). These cartridges are with high page yield- 6500 pages for HP 410X black, 5000 pages for HP 410X yellow, HP 410X cyan and HP 410X magenta. That means you don't have to change the empty cartridges often.
Besides, compatible 410A toner and 410X toner are also good alternatives for HP Laserjet Pro M452dn. The print quality of compatible cartridges are almost the same as the original ones. And compatible HP 410A ink and HP 410 X ink produce same pages as the original. But compatible cartridges only cost 1/4 of HP.
What users say about the M452dn
The Color Laserjet Pro M452dn got 4.6 out of 5 ratings from Amazon reviewers, which means that most users are satisfied with this printer.
Based on Amazon customer reviews, high print quality is the major reason for users to buy HP Laserjet M452dn printer. "I require excellent color rendition, sharp text, photo-quality output for a printer that doesn't cost an arm and a leg. So far, this has delivered it all."- reviewed by user ChristopherBear.
Also it is worth mentioning that many users have praised the printing speed of the printer. Another user Meta Neuschuler reviewed "First thing I noticed is how FAST this prints! The test page was printing almost as soon as we hit the print button on the pc."
Conclusion
HP 452dn printer is a fast, powerful color laserjet printer providing ideal printing performance. It's a decent color laser printer for small offices and home offices. However, this printer is no longer available on HP.com or Amazon. HP replaced it with new machine HP Color Laserjet Pro M283fdw and HP Color Laserjet Pro M454dn. For now, M452dn printer is only available from Ebay or local stores.
True Image is offering premium compatible HP 410A and HP 410X toner cartridges for HP Color Laser Jet Pro M452dn. Want to know how much you can save by using True Image cartridges? Visit our official website now.