HP LaserJet Pro M404dn was released on May 31, 2019. Until now the official website is still selling this machine and the price is $329. The HP LaserJet Pro M404printer is designed to allow you to focus on the most effective place by the features of printing on both sides and fast printing speed, printing effortlessly from any device, virtually anywhere, securely through the cloud. 

HP Laserjet pro M404dn Functionality
M404dn is a simple small-office printer with 18.87 pounds and measure of 8.5 by 15 by 14.1 inches (HWD), very compact and light to suitable with most of the desks. It was very easy to set up and connect to network. The speed and image quality are excellent for the price range. the control panel is also very simplistic with a 2-line backlit LCD graphic display, which is clean, simple to tick all the boxes. HP has done a great job of securing the incidental Web server used for configuring its settings. The printer comes equipped with 1 Hi-Speed USB 2.0、1 host USB at the rear side and Gigabit Ethernet 10/100/1000BASE-T network.
HP LaserJet Pro M404dn Printing Speed & Quality
This Black and White laser printer is productive with features of automatic 2-sided printing, a 250-sheet input tray, fast first page out time, and Print speed of up to 40 pages per minute. With HP Auto–on/Auto-off technology, M404dn saves up to 18% energy over prior products. If you concern about print speed and text output quality in a straight-up, this LaserJet Pro is a reasonable choice for small office or workgroup.
Customers barely have complaints about the M404dn's output. Even the decorative and somewhat uncommon fonts come out well-shaped and legible, and standard fonts look suitable even at tiny point sizes, without any faults to the naked eye. Grayscale graphics have solid backgrounds devoid of banding or streaking, and even the smallest hairlines (less than 1 point) print evenly and unbroken from end to end.
Embedded grayscale photographs look okay, with adequate variances in shades of gray, though detail left a little to be desired. You wouldn't, of course, use this monochrome laser printer for churning out your family's printing, but the text, graphics, and image output is indeed good enough for most business applications.
HP LaserJet Pro M404dn Similar printers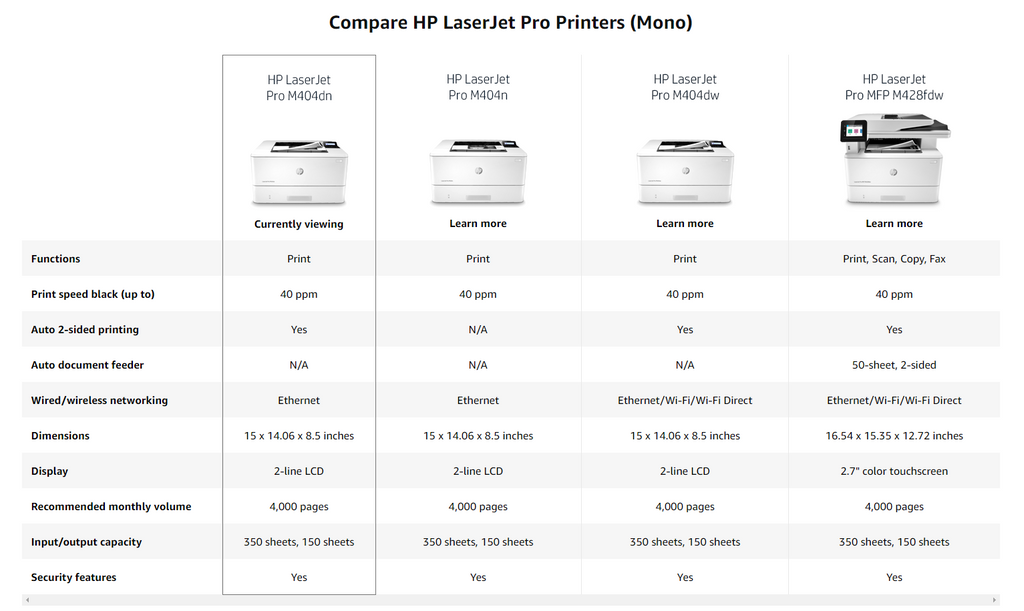 There are three models in the HP LaserJet Pro M404 series: M404n, M404dn, and M404dw. Three are available with ethernet. M404dw offers wireless access when users are not part of the ethernet network. M404dn and M404dw have double-sided printing feature, while M404n is for customers who mostly want to print on one side of a paper.
M404 models print black pages with the HP 58A Black Original LaserJet Toner Cartridge (CF258A) with Jetintelligence. CF258A has a page yield of up to 3,000 pages. For greater economy, you can use the HP 58X Black Original LaserJet Toner Cartridge (CF258X) which has a page yield of up to 10,000 pages. Both cartridges are filled with HP Jetintelligence toner and the new HP Ecosmart black toner. The combination of both toner technology provides outstanding print quality, but at the same time, original cartridges cost a lot.
HP LaserJet Pro M404dn Printing Cost
| | | | |
| --- | --- | --- | --- |
| toner cartridges | 1 pack Price | page | cost per page |
| HP CF258A | $105.99 | 3000 | $0.035 |
| HP CF258X | $221.99 | 10000 | $0.022 |
| True Image CF258A(No chip) | $38.99 | 3000 | $0.013 |
| True Image CF258X(No chip) | $48.99 | 10000 | $0.005 |
| True Image CF258X | $129.99 | 10000 | $0.013 |

The above table shows the cost details of using different toners. For the same page yield 10,000 CF258X toner, cost per page is $0.022 and $0.013 for HP and True Image respectively. If you have some simple DIY skills, to install the chip to our non-chipped version cartridge from the original one, the cost can be as low as 23% (0.005/0.022). What a huge save! 
Are you still using expensive original toner?  True Image offers more favorable HP M404dn toner replacements for you. More you print, more you save. Come and choose your best suitable toner according to your specific need.