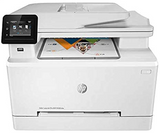 A good HP color laserjet M283CDW toner can make your printer work better and longer. However, the price of the original HP toner is unacceptable. If you want to find another compatible HP MFP M283cdw toner to replace the original, you can try True Image. There are many options for you, like the HP 206A set and the HP 206X set. Additionally, each set has a black, cyan, yellow, and magenta toner cartridge. Besides, HP 206X has two options; one is HP 206X with chip, and the other is HP 206X without chip. So, you can choose the right HP M283cdw toner cartridges below according to your specific needs.
Features of HP Laserjet MFP M283cdw Toner Replacements from True Image.
1. Cost-saving MFP M283cdw Toner Cartridges.
True Image cost-saving compatible ink and toners are the perfect option if you are looking for an affordable option that works with popular HP M283 laserjet printers. To purchase 100% compatible HP color laserjet MFP M283cdw toner help customers save a lot of money. HP laserjet pro M283cdw ink cartridge replacements will be your good choice to save money. The price of this toner for HP M283cdw is only 1/3 of the original HP. We believe that you will find ink for HP M283cdw at the most affordable price in True Image. Besides, our commitment is to provide high-quality, fully compatible cartridges at incredibly affordable prices.
2. Highest Quality HP Color Laserjet pro MFP M283cdw Toner Cartridges.
We check all M283cdw printer toners to make sure they all meet our strict quality standards. You will find our toners run smoothly in your printer, and it will not cause problems such as paper jams, in-smooth installation, etc. We do not ship ink or toners that are not 100% satisfying, so we are confident that you will be satisfied with your ink and toner purchase. We have built a high reputation for quality. Our commitment to quality means that we will strictly check through all the cartridges to make sure they meet our high standards. We will never ship cartridges that are not 100% satisfying.
3. Great Value of HP Laserjet pro M283cdw Wireless Color Printer Ink Replacements.
Our premium HP color laserjet M283cdw toner replacements are professionally manufactured, following the highest standards and guidelines. We professionally recycle some ink cartridges ourselves using highly specialized equipment and take great care to ensure that a premium cartridge will exceed your expectations. When you print with our compatible HP laserjet pro M283cdw, the print quality can match the originals'.
4. 100% Money Back Guarantee for HP Laserjet pro M283cdw Toner.
At True Image we understand that things don't always go as planned. You might make a mistake while ordering or not be completely satisfied with your purchase. If you are unhappy with any products, our returns policy ensures a 100% refund. 100 satisfaction guarantee is ready for you.

5. Great Customer Service for HP Color Laserjet MFP M283cdw Ink Toner.
Providing high-quality customer service and getting high scores customer satisfaction is our top priority, and we welcome constructive criticism from every one of you. We encourage customers to interact with us via email, chat, and phone. We allow our professional customer service to handle any issues you might face. If you are satisfied with our ink for HP M283, you can share it on our product page to leave your feedback. However, if you have something satisfactorily, talk to a customer support specialist about product-related issues through our online chat. We will certainly do our best to provide the right solution. 
Frequently Asked Questions About HP Laserjet pro M283cdw Ink Cartridge Replacements.
1. How to Change Toner Cartridges in HP Color Laserjet pro MFP M283cdw Printer?
Open the HP M283cdw printer front door.
Pull out the drawer.
Take out the used toner cartridge by grasping the toner's handle.
Take out the new HPcolor laserjet M283cdw toner and open its protective cover.
Remove the new toner cartridge's sealing tape.
Shake the new M283cdw toner horizontally several times.
Insert the new toner cartridge into the drawer and push back the drawer.
Close the front door of the HP color laserjet M283cdw. 
2. The chip is glued; it seems impossible to remove. How can I use compatible HP 
M283cdw

toner?

Our HP 206A toner and HP 206X without chip package includes a set of professional tools to remove the chip with glue. It will help you quickly remove the chip from the original toner and insert it into our HP 206 toner. For more details, you can check the following video.

 
3. Is there any difference between True Image 206A toner and original HP 206A toner when using?
Since the new 206A toner uses an old original chip, it may prompt a "Toner Cartridge Low" or "No Toner Cartridge" error message. However, it does not affect your regular use. You can just ignore the prompt and start your printing normally.
4. Knowing that it cannot be 100% accurate, what kind of page yield do your toners have? 
It is correct. The standard page yield is based on the 5% coverage of the page. Take our HP 206A as an example, each color can print up to 1,250 pages, and the HP 206A black toner cartridge can print up to 1,350 pages. Moreover, HP 206X cyan, yellow,and magenta high-yield toner print up to 2,450 pages. Besides, the page yield of HP 206X black toner is 3,150. Shop one you like below!
5. What should I do if there is any problem after 30 days of purchase?
You can enjoy our one-year warranty service from the moment you purchase True Image products. You can contact us via email, phone, or online chat, and our professional customer service staff will give you a satisfactory solution as soon as possible.
6. Will you refund or replace HP M283 printer cartridges as needed?
If you have trouble getting our toners to work and we cannot help you solve the problem, we will provide a refund or replacement under our 100% satisfaction guarantee.
7. What if you void my printer warranty?
All HP color laserjet pro MFP M283cdw cartridge replacements you purchase from us come with one-year warranty. We wouldn't void your printer warranty until the HP color laserjet MFP M283cdw ink is used up. We are proud of our excellent reputation for quality and service, so if you have any problems with your purchase, we will do our best to solve the problem for you.
8. Will you pack the HP M283 toners well?
True Image M283 printer toners are individually packed in their boxes. So if you're not going to use them immediately, you can store them for up to 24 months without their quality being affected.
9. Do I need to pay for the freight?
All of our products over $30 are delivered free of charge and dispatched the same day. Place an order today, and we are 99% sure that you will receive your printer cartridge within 2-3 working days. We have many delivery options available. It will be no problem if you want your inks and toners guaranteed next business day. Please contact our friendly and well-trained customer support team. There will be a specialist to help with your next-day delivery demand. If you need any further information about HP laserjet pro M283cdw wireless color printer toner cartridges or service, come and chat with us.