This product is guaranteed to work with below printers:
HP Color LaserJet Pro
HP Color LaserJet Pro MFP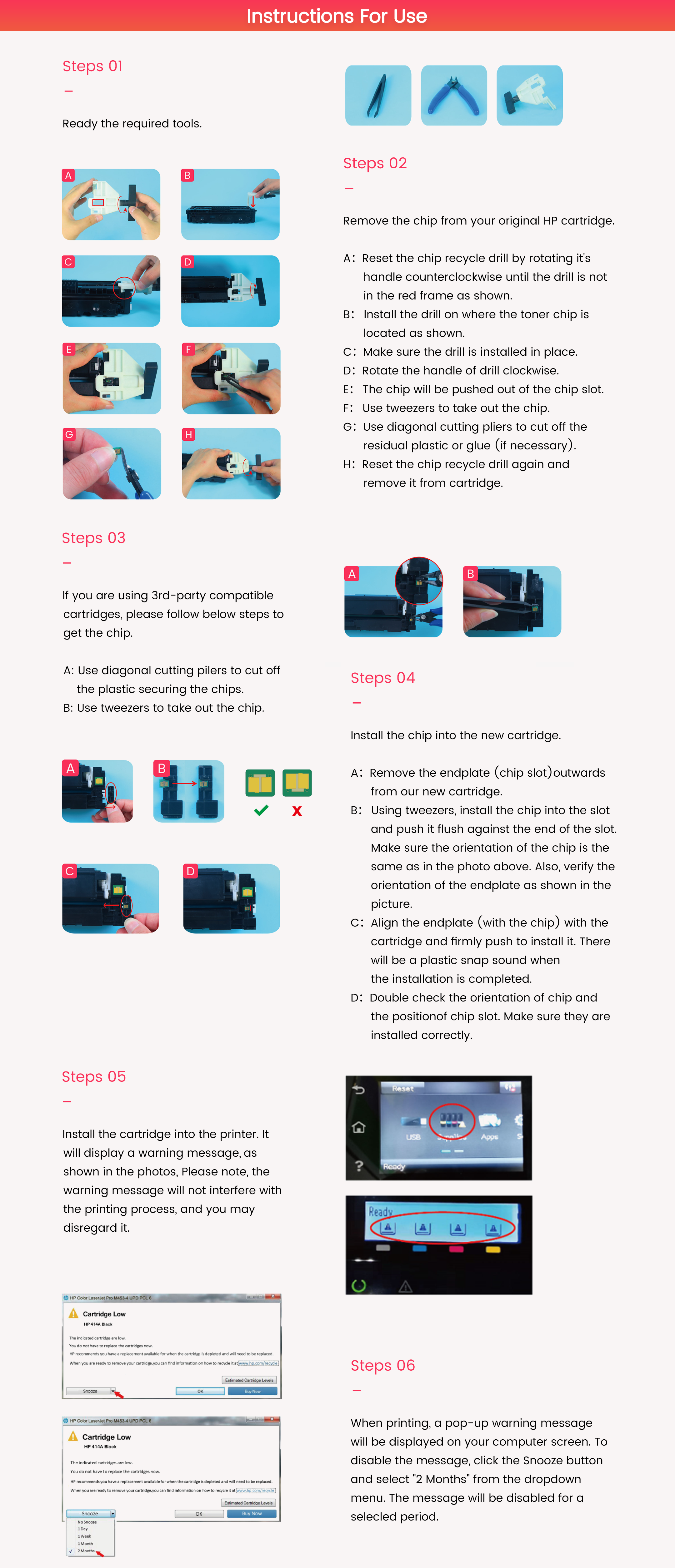 HP206A Black (W2110A) Toner Cartridges Compatible Description
Basic characteristics of HP Color Laserjet Pro M255DW toner HP 206A toner is compatible with HP Color Laserjet Pro M255DW toner and HP LaserJet Pro MFP M283CDW, M283FDW Toner.
Before you buy HP M255 toner, you have several questions to figure out first. What toner cartridge capacity do you need, HP 206A or HP 206X? What toner color do you want, black cyan magenta, or yellow? It will decide what actual model you should choose. HP W2110A, W2111A, W2112A or W2113A? To help you figure out this question, we will tell you some basic characteristics of HP M255 toner.
First, you can learn the toner cartridge capacity from page yield. HP 206A page yield is 1,350 pages at 5% coverage. And HP 206X is a high yield of 3,150 pages. If you print frequently, you can choose HP 206X high yield.
Then, you should know that all the original hp toner use numbers stand for black cyan magenta, and yellow. Following a sequence, HP W2110A, W2111A, W2113A, and W2112A is representing black cyan magenta, and yellow. Be careful about what color does W2112A and W2113A stand for. HP W2110X, W2111X, W21112X, and W2113X high yield cartridges are also like this.
Also, you can know more things about the cartridge by searching online. Maybe sometimes you will misspell when you search online. Such as 206A, you may enter the "a" twice to be 206Aa. But this will not affect the search results. No matter you enter 206Aa, HP 206XA, or others, search engines can always help you find what you want.
After understanding the above information, you will know how to choose HP M255 toner. If you have already figured out what you need. Then you can learn more information about HP Color Laserjet Pro M255DW toner.
More information about True Image HP Color Laserjet Pro M255DW toner
Compare will the original HP 206A toner, our toner will be more affordable. Also, we will provide you with free shipping when the amount is over $30, letting you spend all your money on the product itself. We can guarantee that our quality is the same as the original HP W2110A.
True image has passed the international ISO environmental system certification. And also our HP W2110A and HP W2110X have passed the international ISO quality system. Meanwhile, we have done tests several times before selling.
We use the original HP W2110A and HP W2110X to print test documents at first. Then to ensure that the printing effect is not affected by the original, we will fully clean the print head and other parts. After that, we use our product to print the same test documents on the same printer. Then compare the test documents to see if the effect is consistent with the original HP toner. Our quality has been verified by several tests. And our quality is the same as the original.
And we will provide you with a one-year warranty. If your cartridge has any damage, please feel free to contact us. If you have met any problems while using the cartridge, you can also contact us. We will be happy to serve you.
The method to solve the problem of M283FDW Toner leakage
We may happen to have M283 toner leakage when we are printing. The toner cartridges leakage will reduce the use life. And not only make the M283FDW toner printer dirty but also cause some printing failure. So what should we do when the toner cartridge leaks and causes unclear printing text or the printer's inability to print.
One of the reasons for toner cartridges leakage is the outlet or inlet cap of the M283 toner is loose. So, we need to check it first. If it is a loose cap, we can recap it or use transparent glue. Another reason is excessive waste powder caused by low coverage printing. The printing coverage means the percentage of the area covered by the ink relative to the entire printing paper.
In short, how much acreage your content occupies. When your waste powder bin is nearly ample, you need to clean it up. So how to clean the waste powder bin up? You can do follow the step below.
First of all, take out the M283FDW toner. You can clean the toner left on the edge of the M283 toner gently by brush. Then unscrew the screw with the label. Remember do not unscrew the screw without a label! After you unscrew, you can take out the charging roller by twitching it back and forth along the sides of the M283FDW toner. And now, you will see a white baffle. Unscrew the screws on both sides of the baffle. After removing the baffle, you can pour out the waste powder smoothly. Finally, you can install the removed parts back according to the above steps. When you pour out the waste powder, it may have a lot of toner dust flying out. To avoid contaminating other equipment, you'd better do it outdoors.
A few things you need to pay attention to when reserving the cartridge Like low coverage printing will affect the quality of HP M255 toner which is embodied in cartridges leakage. The time of printer use and the using paper will also affect the quality of the HP206 cartridge. People will be tired after a long time of work, so do cartridges. Be careful do not to use a printer for a long time. It may cause the cartridge to wear out. You should let the machine rest appropriately.
And you need to know that there is a shelf life of HP206. It means you can't keep using them, for example, ten years, just because you haven't used toner up. Once the expiry date has passed, the printing quality will reduce. In severe cases, it may even damage your printer. So you'd better pay attention to this. The package can protect HP206 from light or dust entering. If you can't settle the cartridges immediately after opening, please use transparent glue to repackage them.
The place you store HP206 is better to choose where the temperature and humidity are suitable. Whether the temperature and humidity are too low or too high, the shelf life of HP M255 toner will be reduced. Besides, pay attention to the placement method. Never place the cartridges upright! Also, be careful do not touch the drum or electrode after opening it. Because of the sensitivity, touching may cause damage to the drum.
You may care about your personal information safe on our website
We know you'll want to know if we'll sell your personal information. We can assure you that we will never do this! You can learn from the Privacy Policy on our website that we will only use your personal information for order processing and shipment. Your personal information will be stored on a secure server behind the firewall. So do not need to worry, it is very safe!
If you want to withdraw your consent to use your personal information after opt-in. Then you can contact us through the email we wrote at the bottom of the website. If you have any other questions want to ask about True Image, you can also contact us through email or phone wrote at the bottom of the website.
Frequently Asked Questions about Compatible HP 206A Toner Replacement for HP W2110X W2110A M283FDW Toner M255DW Toner
Is True Image HP 206A black toner cartridge compatible with my printer?
- True Image HP 206A black toner cartridge W2110A is compatible with below HP printers after you switch the original HP 206A chip successfully.
HP Color LaserJet Pro M255dw, HP Color LaserJet Pro MFP M282nw, HP Color LaserJet Pro MFP M283cdw, HP Color LaserJet Pro MFP M283fdw.
If your HP printer is on the list, you can feel free to buy our HP 206A black toner cartridge.
Can I replace my HP 206A black toner cartridge with True Image HP 206X black toner cartridge?
- Yes. True Image HP 206A black toner cartridge will perfectly work with the HP laser printers which fit HP 206X black toner cartridge. And our HP 206X black toner cartridge can prints 3,150 pages (@ 5% coverage) with the highest level of print quality performance, 1,800 page yield more than HP 206A black toner cartridge.
What is the difference between HP 206A black cartridge and HP 206X black cartridge?
- The biggest difference is on the page yields. Approx. cartridge yields is declared in accordance with ISO IEC 19752 Letter/A4. HP 206A black cartridge has standard yield up to 1,200 pages. HP 206X black cartridge is a high yield black toner cartridge. It prints up to 3,150 pages. Besides, their pricing may vary because of the difference on page yields.
How to choose laser printer or inkjet printer?
Use laser printer instead of inkjet printer if you only print text documents.
Inkjet printer uses ink cartridge. It is more suitable for picture and photo printing. Laser printer uses laser toner cartridge. It's the best choice when you need to print big volumes of text documents. Both printer ink and toner cartridges are essential office supplies and school supplies. But Inkjet prints always cost higher than mono laser prints.
How can you make sure the safety of our personal information? Will sell my personal information?
True Image values our customers most. We will never use your personal information for any other purposes except order processing and shipment. And we are highly abide by government laws on the protection of personal information.
True Image carries a line of the most popular HP toner cartridges for HP printers at extreme discounts. They work high quality printing as perfect as original HP toner cartridges. If you are planning on purchasing more than one HP printer toner cartridge, check out our bulk purchasing deals and you will find our best prices and offers. All of our HP printer toner cartridges come with a one-year 100% satisfaction guarantee and free shipping with order over $30!
More deals are available in True Image, welcome to purchase~
Specifications
| | |
| --- | --- |
| True Image SKU | TI-W2110A-NO CHIP |
| Product Brand | True Image |
| OEM Number | 206A (W2110A) |
| Product Capacity | Standard Yield |
| Shelf Life | 24-36 Months |
| Page Yield | 1350 |
| Cost Per Page | 2.22 cents |
HP206A Black (W2110A) Toner Cartridges Compatible Reviews
Super Value, Good Print Quality
I was very impressed with this product, especially since it was such a savings over the HP brand. I will definitely be re-ordering this.
Works great!
The print quality and value is great! These are easy to install and keep printing. Will be ordering again.