This product is guaranteed to work with below printers:
HP Color LaserJet Pro
HP Color LaserJet Pro MFP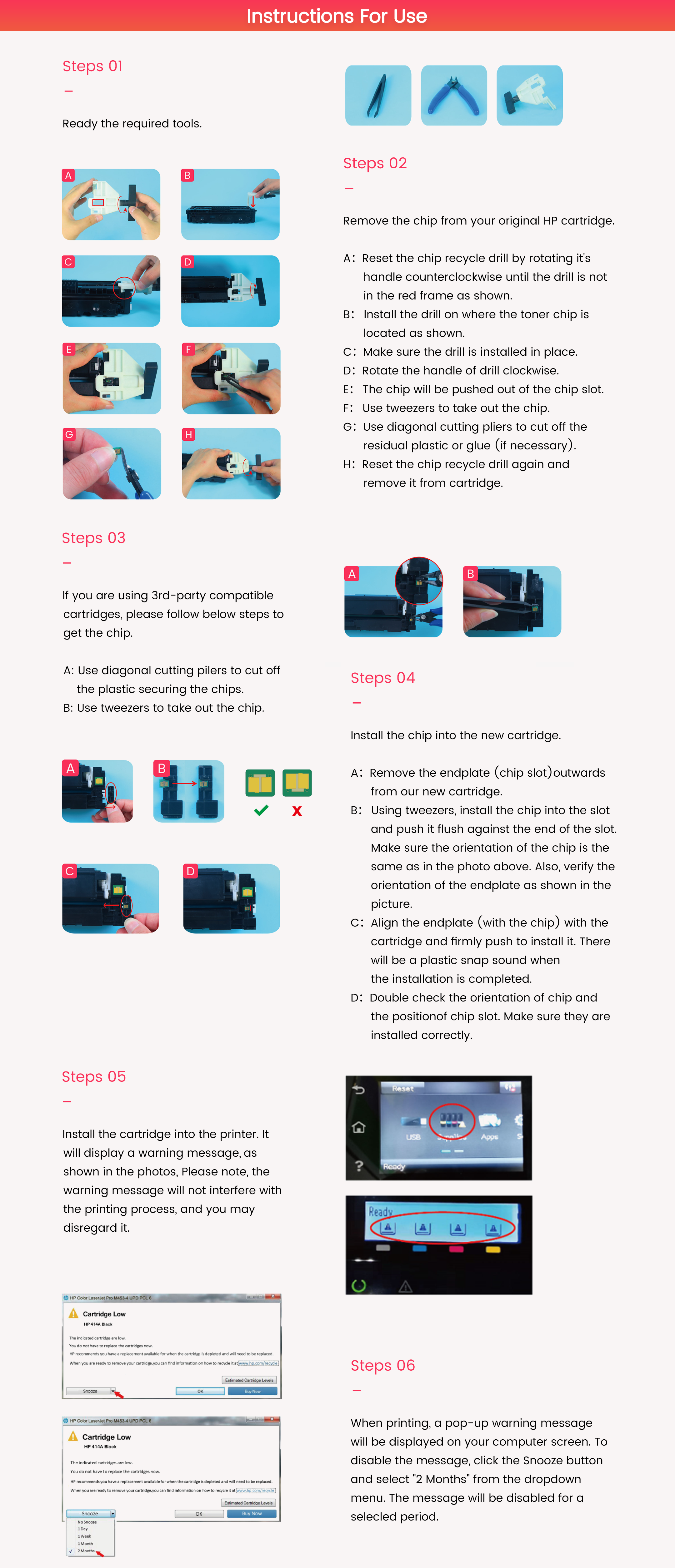 Compatible HP 206X W2110X High-Yield Black Toner Cartridge - Without Chip Description
Professional quality of our compatible HP 206X black toner
True Image compatible W2110X laserjet toner cartridge meets the original specifications and performance standards, offering you premium quality printing at an affordable price every time. In order to maintain high quality, our HP Toner Cartridge W2110X is manufactured by a third-party manufacturer with brand new parts and some recycled parts. Manufacturer test it rigorously to assure optimal quality printing.
Many people are worried that compatible toner cartridges will damage the printer. However, our HP 206X black cyan magenta and yellow toners are designed to work without harming the printer. They keep running smoothly like the originals.
Secured packaging of our HP 206X black toner cartridge
The premium packaging not only looks great but also keeps our compatibility HP printer ink and toner very secured during transport. The packaging mainly has 4 layers: parcel box, product box, cotton tray and PE bag.
High compatibility HP 206X W2020X toner
True Image premium replacement for HP 206X toner cartridge is designed to work perfectly with original HP printers. It keeps running smoothly in following HP printers: HP Color Laserjet Pro M255DW, HP Color Laserjet Pro MFP M283CDW, HP Color Laserjet Pro MFP M283FDW, HP Color Laserjet Pro MFP M282NW, HP Color Laserjet Pro MFP M283, HP Color Laserjet Pro M255. Printing is easy when you have the correct toner.
Our HP 206X black toner cartridge provides the best value
Our multi-step testing process ensures that our HP 206X toner cartridges produce high-quality prints for home or business use. Compared with standard yield cartridges, most of our printer cartridges produce significantly higher copies per cartridge. Usually, a high-yield cartridge will print double (or more) the number of pages at a slightly higher cost. Thus it reducing cost-per-print and providing the best value for our customers.
Generally speaking, store pricing may vary due to different colors of toner. Usually, the cost of color toner is higher than that of black, because it requires more accurate chromaticity. From this point of view, it is reasonable that store pricing may vary from color to color. However, our brand can provide the same price for the 4 color toners - black cyan magenta and yellow. This is because our brand maintains long-term cooperation with first-class manufacturers in the industry, and there is a large amount of production demand every year. We are willing to give back the cost savings to our customers.
Service about buying our HP toner 206X
True Image is aiming to provide our customers with the best service possible! We will continue to work hard to make you the first choice for the best products, lightning-fast transportation and excellent customer service. Moreover, we've partnered with world leaders in technology and security to provide you with an easy to use, fully interactive and secure on-line shopping experience.
Our compatible HP W2110X comes with 100% satisfaction guarantee
We offer a 100% satisfaction guarantee. Our printer ink and printer toner cartridges include a 1-Year warranty and 100% money-back guarantee. So that you can shop confidently and risk-free.
Note: This compatible HP 206X high-yield black toner cartridge does not come with a chip. You need to transfer the OEM chip from original HP W2110X toner cartridge to this product. Please watch the installation guide video below for the specific methods of installing.
Frequently Asked Questions about HP 206X W2110X Toner Replacement
1. What does "HP 206X toner without chip" mean?
It means these toners DO NOT come with a chip, they are DIY (Do It Yourself) version. You need to remove the chip from your old original HP toner cartridges 206X and then install it to our product in correct position. Don't want DIY toners? Our HP 206X 4 Pack (With Chips) is your best choice. After the correct installation, your printer may display " Low toner" or "Used", because the chip has already remembered the capacity of your old toner cartridge. But you can just ignore the message and print it as usual.
2. Can I use the HP 206X black toner cartridge in my HP Color Laserjet Pro M255DW printer without a chip?
We need to give you a kind reminder that, all compatible 206X toner cartridges on the market are without chips, you need to install the original chips to the compatible toner cartridges to make them work. But please don't worry, we have detailed instruction about how to switch the chips.
3. Are HP 206A HP W2110A chip and HP 206X W2110X chip interchangeable?
Yes, the chip of HP 206A standard yield cartridge and HP 206X high yield cartridge can be interchanged. That means you can use chip of 206A on 206X toner, or use chip of 206X on 206A toner. You may find that the printer show "Low toner" or "Used". But you can just ignore this error and continue to print, because the chip has remembered the capacity of your old toner and it won't affect printng.
4. How long does toner last for those who rarely print? Will the toner dry out or become unusable after some time?
Once you open the toner cartridge and use it, the quality of the toner is able to maintain for about two years, providing you with consistent and stable high-quality printing results during this time. However, if the toner bag have been opened for more than two years, and the toner has not been used up because of the small number of prints, we recommend that you replace it with a new one to ensure great-quality printouts.
Toner will not dry out after a period of time like ink cartridge, because toner is essentially a dry solid material, while ink is liquid.
5. Will True Image sell my personal information?
When customers ask "will you sell my personal information?", our answer is "No". Technical network security is protecting True Image official website. We will not disclose or sell customers' personal information and important data. We will only use personal information for email marketing and after-sales contact.
6. Does any additional fee may apply when I return an unopened toner?
First of all, we need to learn more about the reason for your return.
Secondly, there are generally two situations for returning unopened toner cartridges. Whether additional fee may apply depends on the actual situation.
Situation 1: If we send the wrong model and cause the return, we will not charge any additional fees. Meanwhile, our customer support specialist will reschedule the delivery for you.
Situation 2: Under this situation, you need to bear the shipping cost of returning the unopened toner cartridge. That is when you bought the wrong toner model or replaced the printer and no longer need the toner cartridge, then. Contact our customer support and he will send you a prepaid return label via email. You only need to pack the package, print and paste the return label on the package, and then send it at the delivery station. We will give you a refund within one week of receiving the return. Please note that we will deduct the actual shipping fee of return from the refund.
HP 206X W2110X High-Yield Black Toner Cartridge Replacement - Without Chip Specifications
| | |
| --- | --- |
| True Image SKU | TI-W2110X-NO CHIP |
| Product Brand | True Image |
| OEM Number | 206X (W2110X) |
| Product Capacity | High Yield |
| Shelf Life | 24-36 Months |
| Page Yield | 3150 |
| Cost Per Page | 1.27 cents |
Compatible HP 206X W2110X High-Yield Black Toner Cartridge - Without Chip Reviews
Works Great Update
After sending the photos of the bad prints, True Image send an email that toners will be replaced. Very good customer service and will buy again.
Works Great
Had ordered backups in the past and seems there is a shelf life. Used these old stored one did not last long and ended up with spots and streaks. Now I just order as needed.
Hello Samuel Yee,
Thank you for your important feedback. We will continue to work hard to improve our products and services. And we sincerely look forward to your next visit to our store.
All True Image brand printer cartridges are covered by a 30-day money-back guarantee and a 2-year product warranty. If you encounter any problems, please call our customer service team at (855)412-1136 or send an email to cs@trueimagetech.com. Our customer service team are ready to help you.
Your 100% satisfaction is our goal!
Best regards,
True Image Customer Service Team
Seamless replacement
It is amazing how printer manufacturers can get away with such high priced replacements. Well this is the answer if you want to pay 70% less for toner and still get great prints. This is how you do it.
Great toners
The new red chip holder is a great help in change out!!!
Thank you, George McDaniel
Just what I needed
Easy to install and prints nice and black. Just as good as the original in my opinion. I'll buy again.