We are a company with more than ten years of experience in making printer consumables, so we know the needs of users very well. Users need a good machine with high print quality, high stability, simple operation and cheap consumables. Instead of e-waste with gorgeous paper parameters, high failure rate and expensive consumables.

Some Misconceptions of Users about Printer
In order to let the readers know how to choose printers correctly. We specially summarized four elements and two key points. These four elements respectively are stability, high print quality, ease of use and economical practicability. The two key points are to buy a new printer or an old one? Buy the printer online or offline?
For most people, the printer is an electronic equipment with very high threshold. Although they belong to the same electronic products as computers, people who know printers are much less than those who know computers. However, most people believe that printers and computers are belong to the same industry. In fact, printers are printing equipment and computers are consumer electronic products, which are different in essence. The majority of people can tell the difference between desktop and notebook. But more than 70% of people can't even tell the difference between laser printer and inkjet printer.
When most users want to buy a new printer, they often can only turn to the people around them to buy what others use. Although this method is ostensibly reliable, it is actually far from satisfactory. This is like what others think is delicious, but it may not suit your appetite. Selecting the printer of your own is the same theory. If others think it is easy to use, it may not be suitable for you.
Therefore, we think that when purchasing printers, you should learn more about  printer-related knowledge. Or consult with professionals to find out your needs and choose a model suitable for yourself. Rather than blindly imitating what others are buying.
Four Elements of Selecting Printers
1. HighPrint Quality
Supposing that you want higher color or picture printing quality, choose inkjet printer. On condition that you want a laser printer, HP and Canon are preferred. These two brands of laser printers are more professional in printing color. If you only print monochrome document, it doesn't matter which brand you choose. But we will recommend you to give priority to mainstream brand like Brother, HP and Canon.
2. High Stability

Stability mean the machine does not need regular maintenance, and there will be no problems after long-term placement.
If you use it often, choose an inkjet printer. If you don't use it at every turn, choose laser printer. Because if you don't use your inkjet printers often, they are easy to plug. Although the inkjet printer driver software has the function of printhead cleaning, most users have no idea of how to operate it. Moreover, if it is placed for a long time, the software cleaning will not play much role. And the machine needs to be disassembled for cleaning. But this will not happen to laser printers. Because the consumables used by the laser printer are toner, there is no need for a printhead. As long as the machine is free from moisture and water, it can be used normally for one or two years.
3. Easy of Use
Ease of use refers to whether the operation methods of the machine are easy for users. And whether it is simple and convenient to replace consumables. In fact, all printers are similar in operation, but American brand printers are more suitable for new users. If you never use printer before, it is best for you to choose American brand.
In the circumstance that you use an inkjet printer and have poor hands-on ability. You'd better not add ink yourself. For it's easy to cause problems. If you're not skilled, it's easy to get the ink everywhere, and the ink is difficult to wash off.
Under the circumstance that you use a laser printer, although adding toner yourself can maximize the use of toner cartridges, it will be a mess if you don't know how to do it. Adding ink or toner seems simple, but for many users, it is still a trouble. Moreover, improper operation can easily lead to toner leakage. In case you accidentally get toner on your carpet, it will take you a long time to clean it up.
4. Economical Practicability
Economy practicability refers to the use cost of the printer. There is an unwritten rule in the printer industry, which is consumables are expensive, printers are cheap.
Let's put it in a more simple way. If you want higher color or picture print job quality, choose inkjet printer. Take HP Officejet Pro 6978 photo printer for example. This printer costs only $180, but the cost of printing photos is as high as $5.
In the event of you need to choose a laser printer, HP and Canon are preferred. These two brands of laser printers are more professional in printing color. Take HP LaserJet Pro M452dn for example. Although it costs $599, its compatible toner cartridge HP 410A color set is very cheap. Besides, these printers offer scanning and copying function through easy WiFi operation. Its printing speed can reach to 28 pages per minute. In the circumstance that you buy our replacement cartridges, you only need 0.01 cents to print each page. If you only print monochrome, it doesn't matter which brand you buy. But we will recommend you to give priority to those mainstream brands, such as Brother, HP and Canon.
While the use cost of laser machine should be analyzed according to the model and brand. Generally speaking, the use cost of toner cartridge is much lower than that of replacement ink. This is why the toner cartridge took up most of the share of the consumable market.
Two Key Points of Selecting Printers
1.New printer or used printer?
For used printers, we will recommend you to take the used ones into consideration. Because laser printers uses toner cartridges. They will stay strong even if they are not used for a long time.
Another big advantage is that used printers have many compatible toner cartridges to choose from. And the price is very cheap. For example, Brother HL-L2370dw printer has been on the market for two years. Many suppliers sell used printers and brand new compatible toner cartridges at a very low price. Our high page yield TN760 is only $19.99. On the contrary, if you buy the latest laser printer, such as HP Color LaserJet Pro MFP M283fdw, the price of toner cartridges is more expensive. For example, our compatible HP 206X toner cartridge set (with chip) costs $299.99. Even if you choose our compatible HP 206A Toner set (without chip) with lower page yield, it will still cost you $118.95.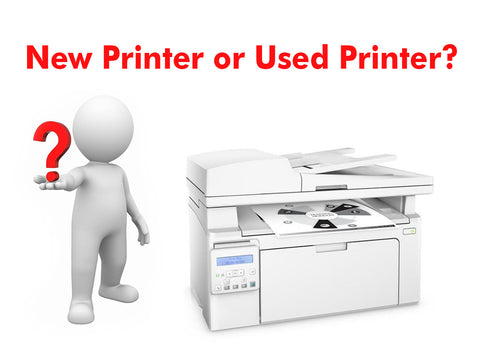 2. Buy printer online or buy printer offline?
For users who have strong hands-on ability like installing the driver, picking up the jammed paper, replacing the consumables and solving small problems. Then you can buy it online. In fact, we suggest that it's best to buy an office printer in a brick-and-mortar stores. Even if you spend more money than buying online, there will usually be after-sales door-to-door service. Moreover, the seller also knows the machine very well, so it's easy for them to solve problems that you encounter with.
Generally speaking, printer purchase is also a hot potato. Choose the right home printer are designed for home office will improve your work efficiency. Yet, choose the wrong machine is like torture, small problems will appear continuously.
When choosing a color printer, you can't just look at the appearance and price of the it as well as the parameters. You must take the four elements we mentioned above into consideration. We believe that by reading this blog, you should have understood how to choose a perfect printer correctly.