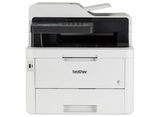 Brother MFC-L3770CDW toner replacement includes standard yield TN223 series and high yield TN227 series. And each series has 4 colors, they respectively are black cyan magenta and yellow. These compatible Brother MFC-L3770CDW toner cartridges has almost the lowest price while maintain the same quality and page yield as original Brother MFC-L3770CDW cartridges.

Why Buy Brother MFC-L3770CDW Toner Replacement from True Image?

High quality document. True Image Brother MFC-L3770CDW toners can replace genuine Brother cartridge primitively. It prints black and color text and photo at a high rate speeds. That is because our compatible toner cartridges have been tested over and over in the factory. Need professional documents with high print quality when attending important meetings? They are the cartridges for you.
Identical page yield.
Our compatible products have the same capacity as toner for Brother MFC-L3770CDW. And do remember to pay close attention to the volume between standard yield and high yield. In addition to that, the page yield between different black toner and color toners( such as 
TN227BK
and
TN227C
,
TN227M
,
TN227Y
) is also different.

Oversimplified installation. If you are new to Brother MFC-L3770CDW toner installation, or even a well seasoned veteran, you can follow our instruction or video step by step. We can assure you that after the first installation, it won not be a big deal for you.

100% satisfaction guarantee gives you peace of mind. From the day you buy, we provide satisfaction guarantee of Brother MFC-L3770CDW toner compatible for a year. Within this year, if you have any problems in use or installation, we will solve them for you immediately. And in the event that you are dissatisfied with your purchase, you can ask for a refund or return. It is apparent to us that your satisfaction to our laser toners is very significant.

Free shipping for compatible products over $30. True Image provides free delivery for compatible ink and toner over $30. Order Brother TN223 toner 4-pack and Brother TN227 toner 4-pack  toner cartridges for Brother MFC-L3770CDW on the premise that you want to lower the printing cost as much as possible.

Frequently Asked Questions of Brother MFC-L3770CDW Toner Replacement

1. How to reset toner on Brother MFC-L3770CDW?

(1)First, make sure the machine is turned on and the printer cover is closed.
(2)Second, press and hold "OK" while pressing the up arrow button.
(3)Third, press "OK" to select the drum.
(4)Fourth, press the up arrow button to display the toner you just replaced, and then press "OK".
(5)Press the up arrow key to reset the drum counter.


2. What toner do I need for Brother MFC-L3770CDW?

The Brother MFC-L3770CDW printer uses either four Brother standard yield TN223 or four Brother high yield TN227 toner compatible. Toner alternatives with perfect compatibility with chips are available for all colors in True Image.

3. How to change toner in Brother MFC-L3770CDW?

(1)First, plug in the printer's power cord and open the device.
(2)Second, there is a small button on the right side of the top of the printer, which you can press to open the front cover.
(3)Third, take out the used drum assembly together with the cartridge replacement.
(4)Fourth, press down the green lever on the drum unit assembly and the cartridge will be able to detach from the drum unit.
(5)Fifth, gently shake your cartridge five to six times, always horizontally.
(6)Seventh, remove the orange protective cover and drag the plastic covering out.
(7)Eighth, place the new assembly in the same direction as the old one. When it is fully seated, you will hear it rattle.
(8)Ninth, move the green tab from left to right a few times to clean the corona wire.
(9)Finally, place the compatible and drum unit into the Brother machine and shut the front cover.

4. Does True Image offer lifetime guarantee?

We only offer 1-year satisfaction guarantee for every consumer who bought our replacements, not for printer but your warranty won't be void by our products by all means.

5. Is LD brand compatible ink cheaper or yours?

It depends on the certain items you are looking for. For most items, our cartridges are cheaper than LD's because we work with manufacturers directly and sell huge volume on different marketplaces. For Brother MFC-L3770CDW toner replacements, our price is much cheaper than LD. Our TN227 4-pack only costs $89.95 while LD's costs over $130. 


6. What is the difference between toner cartridge and drum unit?

There are many brands who produce integrated ink and toner cartridges. But not Brother brand. You must purchase both toner cartridges and drum units to install them in your printer together. One the one hand, the toner cartridge contains toner used to create crisp and clear text and image. On the other hand, the drum unit transfers the toner to the paper.

7. When does Brother toner for MFC-L3770CDW expire?

The shelf life of the Brother MFC-L3770CDW toner compatible is 2 years from the date of manufacture posted on the cartridge box.

8. Do these toners dry up if not used often?

Toner is supposed to be dry. Because it is a powder, not a liquid like the ink. Just make sure you do not store it in an extremely humid environment. Because if it is wet, the powder may gather together. Thus, your printed documents may have all kinds of issues.

9. What may caused faded blue stripe on the edge of my printed document?

Streaks on copies and prints can be caused by contamination in the paper path, such as contamination, dirt, or debris on the print head lens or conveyor belt. Such defects may also be caused by the use of wet paper or the use of paper that does not meet the correct specifications of the machine.

10. What is the chip on Brother MFC-L3770CDW series toner for?

There are two reasons why original brands install chips. The first is the original brand want printer users to purchase the original Brother product only. For customers, on the other side, when you can buy a third-party compatible toner cartridge at a very low price, this chip will make compatible brand developers spend much more time studying the chip. And the price of cartridge replacement will increase for the research and development costs and time they pay. The second is the printer can track the amount of toner in multiple cartridges.

11. Will TN227BK runs out after it prints 3,000 pages?

Yes, in the first place, you can expect about 3,000 pages at a coverage of 5%, which usually means a black text without rich images or graphics. It might run out faster if the coverage is over 5%. On the contrary, it will last longer when the coverage is less than 5%.
Moreover, when the printer displays a low toner message, you can take out the TN227BK toner and shake it from side to side several times. Then, put it back into the printer. By doing so, usually it will print more pages as expected. If the print quality starts to decline, it's time to replace a new toner.

12. What is the difference between high-yield toner and standard-yield toner?

The sole difference between Brother high capacity toner and standard capacity toner is that high yield TN227BK can provide 3,000 pages on A4 paper. In the meantime, the standard yield TN223BK will provide 1,400 pages on A4 paper.
If you want to know how they differ in other aspects, check out the blog "Brother TN223 vs TN227, Which One Should I Buy?"

13. Is there a toner cartridge recycle program in True Image?

No, we don't have recycling program. If you buy a Genuine Brother cartridge and want to return the old one for recycling, you can ship back the used one to Brother. And they will cover the shipping fee for you. At last, check Brother official for further information about the program.