This product is guaranteed to work with below printers:
Brother HL
Brother DCP
Brother MFC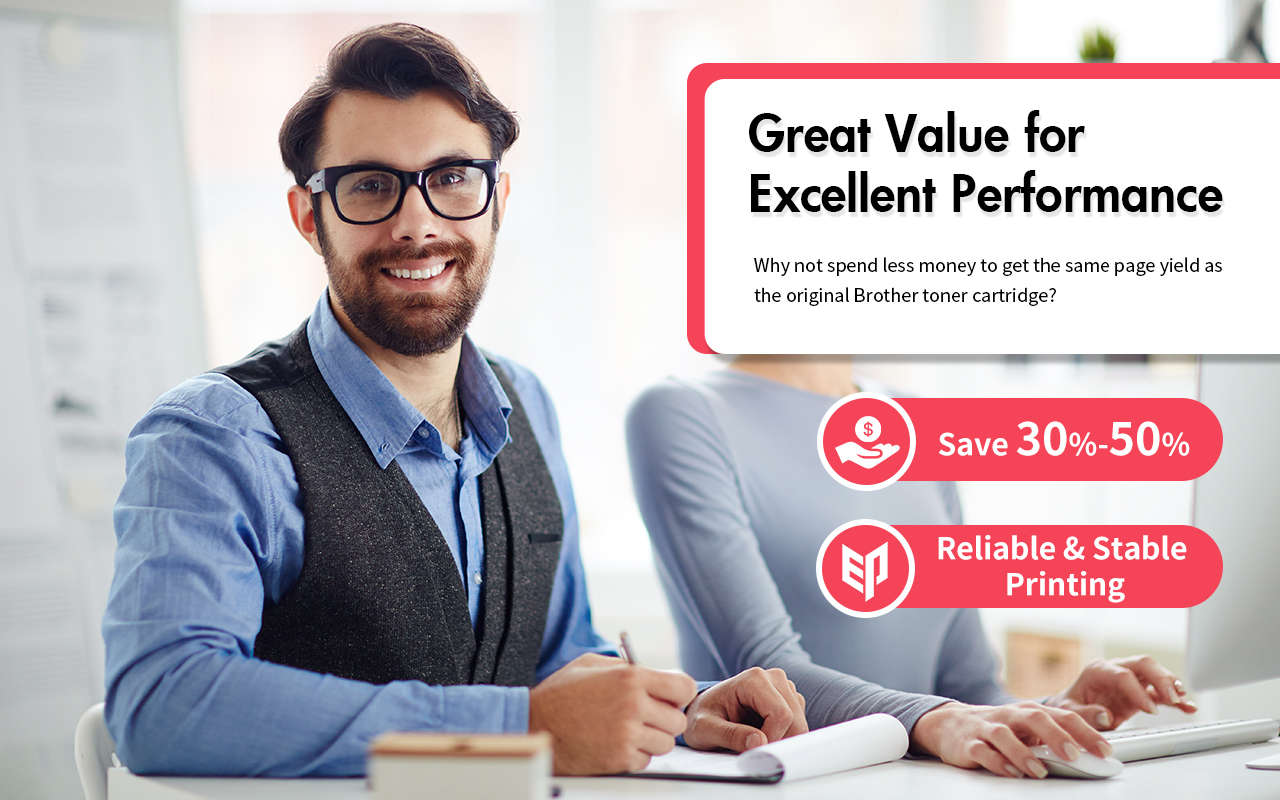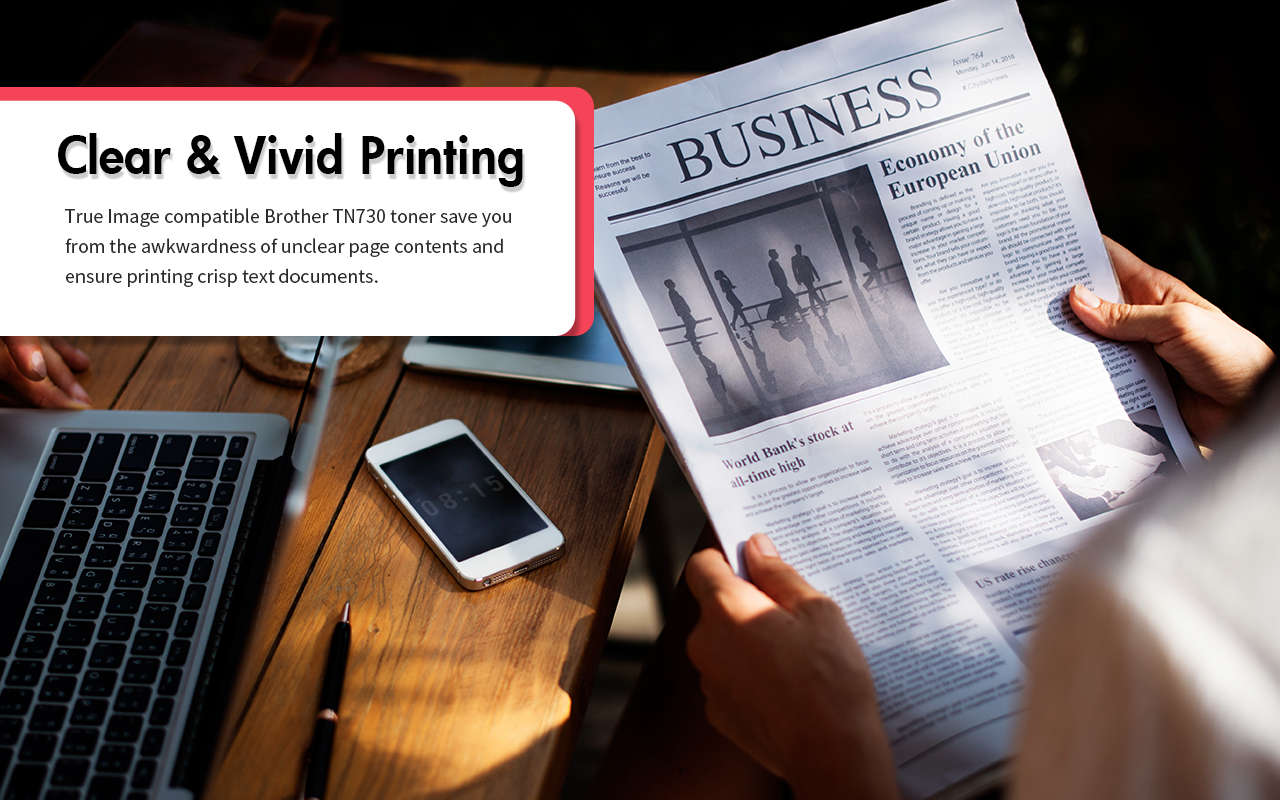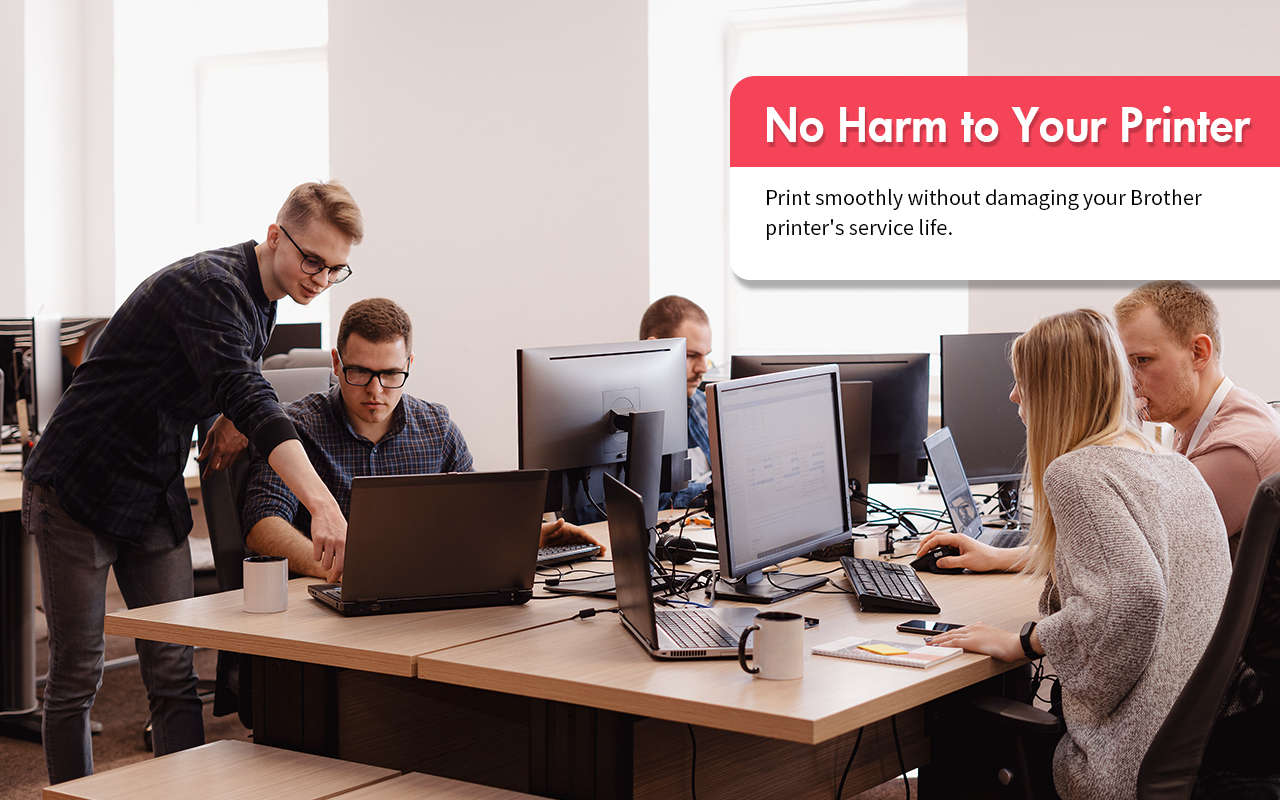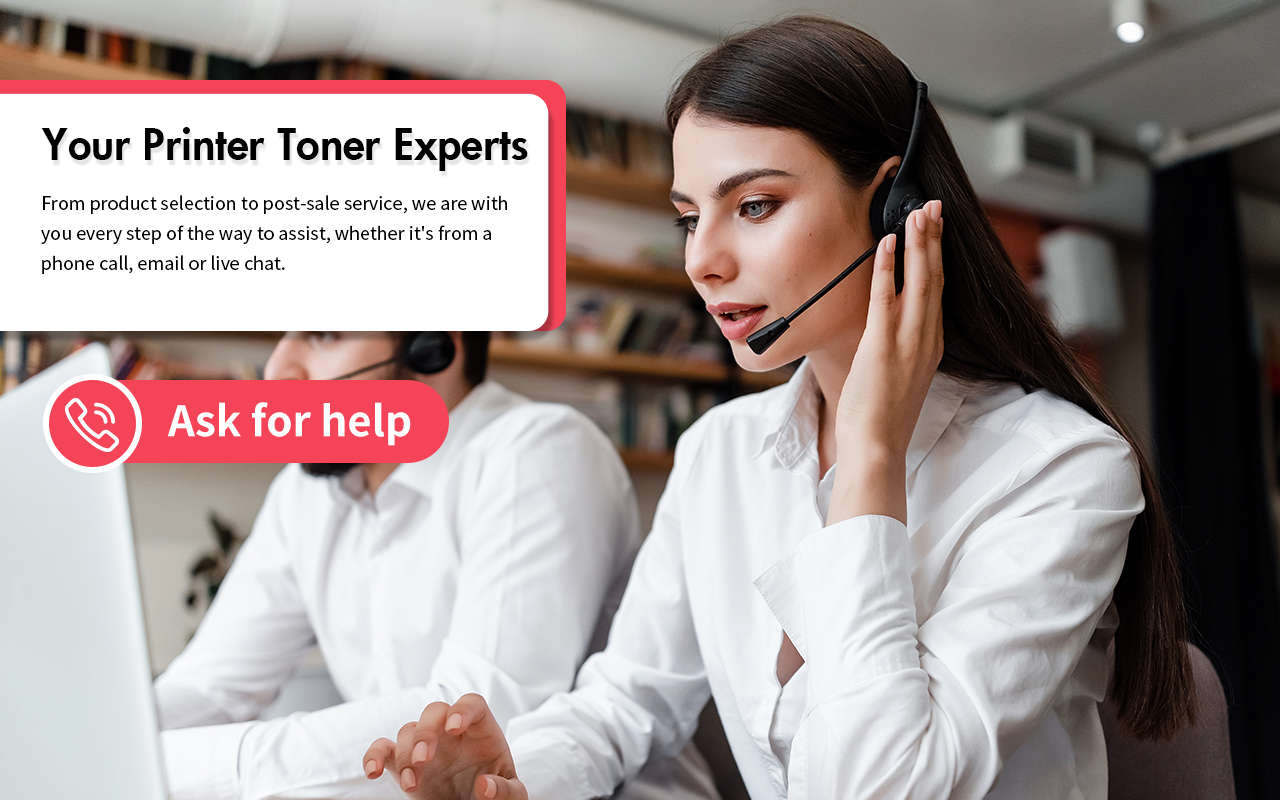 Brother TN730 Toner Cartridge Replacement - Standard Yield Description
This is a compatible Brother TN730 toner cartridge replacement with standard page yield. It's designed to work with Brother DCP-L2550DW, MFC-L2710DW, MFC-L2730DW, MFC-L2750DW, MFC-L2750DWXL, HL-L2350DW, HL-L2370DW, HL-L2370DWXL, HL-L2390DW and HL-L2395DW printers. With standard yield, it produces 1,300 pages of crisp black and white documents. The price of of this compatible toner is only $19.99, which means you can save over 50% from OEM one. With same compatibility, page yield and print quality, this compatible TN730 is the best alternative to the expensive genuine toner.
Want to get better price for each toner? Buy a combo pack and you will get free shipping for order over $30. We have TN730 2-Pack, TN730 4-Pack and TN730&DR730 Combo in stock now. Subscribe to us and you can get extra 10% OFF your first order!
Preferred Price for Brother TN730 Toner
For every customer who has bought our printer ink or wants to buy our ink cartridge, we believe a key reason why you buy other brands instead of buying Brother genuine TN730 is the costly price. For customers who don't know the price of the Brother genuine toner, we can tell you that an original TN730 costs $45.99 ea. It's really unbelievable that TN730 standard yield can have a such high price with 1,200 pages.
The genuine cartridges' price may vary in the market and the price may vary from season to season. Be sure to buy it when it gets cheaper. Besides, our Brother TN730 toner cartridge replacement is only $19.95 ea, less than half the price of the Brother genuine toner. If you want to get a cheaper price, as long as you buy more of the standard yield toner cartridges, the discount will be definitely bigger. As daily consumables, you must keep some Brother cartridges replacement at home for your DCP-L2550DW HL-L2350DW printers. The most importantly, the price of one page is only 0.02 cents. No hesitation no more, seize this discount opportunity for you can use your DCP-L2550DW HL-L2350DW printers in a lower cost. NOTICE: Remember to purchase a DR730 drum unit to use with the Brother TN 760 black toner cartridge high yield with 3000 pages or other other toners.
Free Shipping for Toner TN730 standard yield over $30
For customers living in the mainland of the United States, we give you free shipping service when the order exceeds $30. No matter how much you buy and what kinds of mono laser toner cartridge you buy. Some sellers will charge additional freight surcharge due to ink and toner's size or weight. But we True Image won't do that. What we have been pursuing is to let our customers get the most preferential price, so we pay for your freight. Your purchase is our greatest support. In addition, your goods will be shipped on the day you place your order as soon as possible. And we will send the ink and toner and the drum unit for small office supply to you in 1-3 days.
The Difference between TN730 Standard Yield Black Toner and Brother TN760 with 3,000-page yields
Many people are very confused about the difference between TN730 standard yield and TN760 toner with 3,000-page yields. We are here to give you a little explanation. Take the most obvious example. TN730 standard yield toner cartridge is the little sister, while TN760 high yield toner cartridge is the big sister. But they have one thing in common, it is that both of them only contain black toner inside them. And they are both compatible with the same Brother printer models. Such as Brother laser printers HL-L2350DW HL-L2370DW HL-L2370DW XL HL-L2390DW HL-L2395DW and MFC-L2710DW MFC-L2750DW Brother MFC-L2750DW XL Brother DCP-L2550 DW. Speaking of the page yield, of course their page yields is different. TN 730 is a standard mono laser toner cartridge with toner cartridge yields to 1200 pages. While TN760 is a high yield toner cartridge with page yields to 3,000 pages.
Although the price of the TN760 genuine cartridges is twice that of the TN730 genuine cartridges, our True Image is that TN760 black toner is cheaper than TN730 printer ink. However, please choose the Brother cartridges suitable for you according to your own demand for toner cartridge yields.
Superb Performance and Professional Mono Laser Print Quality of Toner TN730
Though the Brother genuine toner produces crisp sharp prints that withstand the test of time, True Image toner replacement also has the extraordinary quality you can consistently count on. It does pretty good print jobs that out of your imagination. Every customer who has doubts about the quality of our products at the beginning will be eventually moved by its excellent mono laser print quality.
Thoughtful Customer Service
We True Image always want the best for our customers and provide you with the most thoughtful customer service you can never get from else where. Whether you have any problems, whether they are difficult one or simple one. We will help you solve your problems. We have 100% patience and love for our customers. When you have a problem, come to us. We've been there all the time for you.
Frequently Asked Questions
Q1:Because I have some bad experiences of some seller sell my personal information, I would like to take the liberty to ask you, will you sell my personal information?
-First of all, the answer is definitely a NO. And It is worth mentioning that we have seen many incidents of customer information. This also makes us attach great importance to protecting customers' personal information. In the eyes of contemporary people, privacy is the top priority, and we will defend your personal rights for you.
Q2: What is corona wire, and what is the function of corona wire?
-Corona wire is a charged wire in your Brother laser printers that draws the toner off the drum onto the plain paper. By the way, it has to be cleaned totally when the toner cartridge needs a replacement.
Q3: In my own opinion, I think the Brother genuine toner produces crisp sharp prints that withstand the test of time. I have never used your cartridge. Can I trust you?
-We can honestly say that you can trust us completely. And we give you a one-year satisfaction guarantee and two-year product maintenance warranty, which is the sense of security we can provide for you. If you think it's not enough, you can tell us what you need. As long as the request is reasonable, we will do our utmost to meet your need.
Other than that, our product has the best quality you can consistently depend on. The mono laser print quality of the print jobs is pretty much stunning to our customers. What it is to you, we are sure that you will feel the same way.
Q4: I am a boss of a big corporation, my company has these Brother printer models, like HL-L2350DW HL-L2370DW HL-L2370DW XL HL-L2390DW HL-L2395DW and MFC-L2710DW MFC-L2750DW. And I want a high capacity and professional mono laser print quality toner, then what is your recommendation?
Brother TN 760 black toner cartridge high yield with 3,000-page yield is the one we would recommend to you. You can see on our True Image website that our TN760 is a main selling popular product in our store. You may wonder why, here are the reason.
First of all, a large part of our customers are enterprise users, so they need large capacity toner cartridges to support their huge printing volume. Secondly, TN760 is one of our main selling products, so it has favorable price that is not available in the whole industry. Finally, from the perspective of every consumer, who doesn't want cheap and high-quality goods, and TN760 is such goods. Its repurchase rate is enough to prove everything.
Specifications
| | |
| --- | --- |
| True Image SKU | TI-TN730 |
| Product Brand | True Image |
| OEM Number | TN730 |
| Product Capacity | Standard Yield |
| Shelf Life | 24--36 Months |
| Page Yield | 1200 |
| Cost Per Page | 1.92 cents |
Brother TN730 Toner Cartridge Replacement - Standard Yield Reviews
Fast and excellent service
was addressed to the wrong address, but the post office finally got it to me ok. thanks. FGD
Easy, good pricing, arrived promptly
True Image had the best price for what I was looking for and it was easy to order.
Cheaper than the name brand and works so far
Bought this to replace the cartridge in a brother laser printer and it works. I've printed 50 pages so far with zero issues.