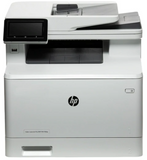 HP color laserjet pro MFP M479DW toner cartridge replacements are 100% compatible with the original HP toner. We offer HP 414A and HP 414X high yield for your HP color laserjet pro MFP M479DW printer. Moreover, With identical and high-quality printing results, they can meet your demand for cost reduction.
Why can you buy HP laserjet pro MFP M479DW toner replacements from True Image?
The quality is guaranteed.You may think that why the price is so low, is it poor quality? That seems to be impossible. As a manufacturer brand with more than 5 million customers in 48 countries worldwide, we do not allow defective HP MFP M479DW toner cartridges to enter the market. Besides, we have innovated the production technology to produce the M479DW toner cartridges with the same quality as the original. What's more, we will reproduce all unqualified products until their quality is up to standard. Please rest assured that our toner cartridges are very affordable, but the quality is not low. In addition, the raw materials we use are all environmentally friendly so that they won't damage the environment.
Free shipping is available for you. We provide free transportation for customers who purchase HP laserjet pro MFP M479DW toner over $30 and live in the continental United States. Moreover, we will arrange the same-day dispatch for customers who order before 4:00 p.m. PST or 5:00 p.m. EST. Similarly, customers who place orders at other times will get our next-day dispatch.
We won't void your printer warranty. We provide a one-year warranty service for customers who buy toner cartridges. Don't worry; we won't void your printer warranty until using out. You can contact us if HP laserjet pro MFP M479DW toner cartridges or if the printer fails during use. After verification by our professional customer service staff, you will get compensation accordingly.
Frequently Asked Questions about HP Color Laserjet Pro MFP M479DW Toner Replacements.
1. How to change HP MFP M479DW toner cartridges?
Open the HP M479DW printer cover
Take out the used cartridges.
Unpack the orange protective covers.
Do Horizontal shaking of the new color toner cartridges 4-6 times.
Take the cartridge sealing tape out of the new toner cartridges
Put the new toner cartridge into the color cartridge tray.
Close the printer cover.
Print Supplies Status.
2. Are there chips in HP 414?
We provide HP 414A and HP 414X toner cartridges 4 pack without the chip. Moreover, HP 414X toner cartridges 4 pack with the chip is also available in True Image.
3. How many times can you use the chip on refills?
You can use the chip several times if it is not damaged.
4. What is the shelf-life of these cartridges unopened?
The HP 414 toner cartridge from True Image is a sealed dry powder. By the way, if the temperature is stable, they should last a good while.

5. How to set up a Wireless Network from an Android on the HP color laserjet pro MFP M479DW printer?
Disconnect the USB cable or Ethernet cable.
Step up wireless-enabled HP color laserjet pro MFP M479DW printer on a wireless network.
Select Set Up on the control panel.
Restore Network Settings.
Enable Bluetooth on your Android device.
Download and Install the APP HP Smart.
Open the APP and your printer by tapping the plus icon.
Connect to your printer and set up the wireless network and printer.
Tap continue after the connection to the network.
Plugin on your device.
Tap Print a Document and then the Print icon.
Confirm the wireless settings.
You can find more information on HP.com.

6. Will HP 414 print until I decide to replace it?
Your HP Laserjet Pro M479DW printer will stop printing if there is no toner in the HP 414 toner cartridges. However, HP 414X toner cartridges can make your printer work for a longer time due to a high page yield. So if you want to make your printer work longer, you can try to use our compatible HP 414X black toner cartridges and HP 414X Cyan/Yellow/Magenta.