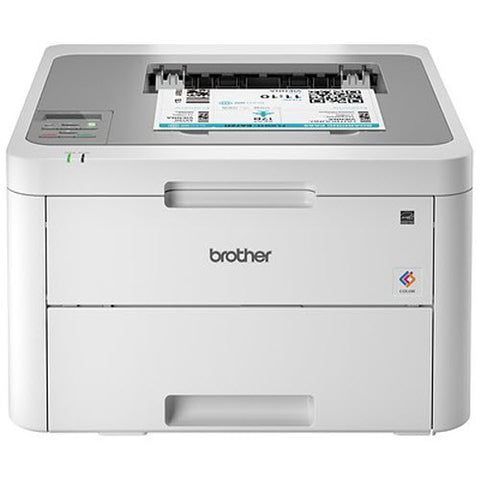 Brother MFC L2750DW XL is actually the same printer as Brother MFC L2750DW. They have the same functions and use same toner cartridges. The only difference is that new Brother MFC L2750DW XL printer comes with a starter cartridge inside as well as one genuine high yield TN760 and one genuine super high yield TN770 toner in box. While Brother MFC L2750DW printer only comes with a starter cartridge inside.
Therefore, when the starter cartridge runs out of toner, you can replace it with TN760 or TN770 toner. Generally, super high yield toner TN770 will be more cost-effective because the cost per page is lower than that of Brother TN760 toner cartridge. But if you don't have enough budget for TN770 toner, you can order TN730 or TN760.
Besides, compatible Brother 2750 toner cartridge replacements are good alternatives for you to save printing cost. True Image offers premium compatible TN730, TN760, TN770 toner cartridge and DR730 drum unit from $8.79 each. Check out our offers in different combo packs below and see how much you can save.
Reasons to Buy our Brother MFC L2750DW XL Toner Replacements
1. Free Shipping over $30 for All Brother 2750 Toner Cartridge Replacements
We are glad to inform all customers that True Image is offering free shipping on orders over $30 for all Brother 2750 toner cartridge replacements now! All orders placed before the cut-off time will be shipped at the same day. If you place an order after the cut-off time, we will ship it on the next business day. The cut of time of our warehouses is PST 4:00 PM (EST 5:00 PM). We also ship orders to HI, AK and PR. But these orders are not covered by free shipping. You can read our shipping policy to learn more information about free shipping.
2.100% Satisfaction Guarantee for MFC L2750DW  Toners
All our products have undergone rigorous testing in order to ensure high performance. So when you start to use our MFC L2750 toner cartridges, you will be surprised by the high quality and cost-effectiveness of our products.
In addition, we provide 2 years of toner limited warranty with a 100% satisfaction guarantee. During 2 years of toner limited warranty, you can contact us for any problem with our products.
Besides, we promise our product won't void your printer warranty. That means OEM company can not stop providing the printer warranty service for your printer for the reason of using compatible toner cartridges. 
3. We Protect Your Personal Information
In today's society, people are paying more and more attention to their personal information. People are worried about their personal information may be used by criminals. To protect the privacy of our customers, first of all, we guarantee that we will never sell our customers' personal information. And we promise never use customers' personal information outside the transaction process of our website. If you want to cancel your permission about our use of your personal information, you can contact us through the email. For more information, you can browse our Privacy Policy and Terms Conditions. Or using the Help Center to find out the answer you seek.
More Information About MFC L2750DW XL Toners
1.Brief Introduction of Compatible Brother MFC-L2750DW Toner Cartridges
The common use cartridges of Brother MFC L2750DW XL and MFC L2750DWB are TN760 and TN770. Our Brother 2750 toner cartridge has the same print quality as the original brand. And the quality of our product is guaranteed by many tests. Comparing with the True Image MFC L2750DW XL cartridge, the original MFC 2750 cartridge price is high. So that choosing our product can help you save money. Also, we have been working hard to reduce the impact on the environment, so we guarantee that our products will not cause environmental pollution.
The difference between TN760 and TN770 is cartridges yield. They respectively are  TN730 and TN760. The print pages of standard yield toner are 1,200 pages with ISO IEC 19752 letter/A4 and high yield toner can print 3,000 pages with ISO IEC 19752 letter/A4. If you are home offices or small offices, maybe you can consider these two cartridges. If none of the standard yield toner and high yield toner can meet your needs, maybe you can consider the super high yield toner.  And the print pages of super high yield toner are 4,500 pages. By the way, it is very suitable for big enterprises.
2.Use Ink or Toner in Brother MFC-L2750DW XL
Ink and toner are used in different kinds of printers. Brother MFC-L2750DW XL is a mono laser all in one printer, so it can only use toner. The ink should be used in the inkjet printers. No matter ink or toner, they are all important parts to their respective printers. Not only the different applicable printers, ink and toner also have many other differences. As long as you understand ink and toner's differences, you can easily tell which is ink or toner. Also, remember drum unit is necessary to use with cartridges for a laser all in one printer. And the drum unit for this printer is DR730. If you have used two or three replacement toners with it, it is better for you to change the drum unit.
3. Recycling Program of Brother 2750 Replacement 
Due to the following reasons, people are paying more and more attention to the recycling of replacement toner. First of all, aluminum, iron, and plastic are some common renewable resources. And there are lots of such materials in the cartridges. Second, the remaining toner may cause environmental pollution. People now are promoting environmental protection and green consumption. Third, a one-time use replacement toner will increase their printing cost per page.  That is why recycling toner is very important for toner users.
There are four common ways to recycle cartridges. The first type is reuse. That means you can use the same cartridge again after a special treatment. Closed-loop utilization is the second type. This type of recycling will crush the old plastic components and reshape them into new parts for cartridges. Opposite to the second one, the third type is open use. It will reshape the old components to another product. The last one is thermal recycling. This type of recycling will finish in incineration treatment. The last is to collect heat energy.
Description of Brother MFC L2750DW XL
1. Basic Information about Brother L2750DWXL Multifunction Printers
Brother MFC-L2750DW XL is a monochrome laser all in one laser printer. And original Brother 2750 toner cartridges are TN730 and TN760. The original Brother printers will come with user manual and toner in box. You can check the user manual to find the printing solutions, if you encounter with some troubles while using the Brother MFC 2750 black and white monochrome laser printer. Or you can search the printing solutions on the Internet. This printer has a 2.7 color touchscreen. This 2.7 color touchscreen can help you complete your work better for it's big enough to operate. Moreover, Brother MFC 2750 are multifunctional printers that can do print copy scan fax.
The print speeds of this printer is 36 pages per minute based on one sided printing and legal sized paper. If you print the large sized paper, the print speeds may not reach 36 pages per minute. The max capacity of paper trays is 250 sheets. The paper trays can help you adjust the paper size whatever it's legal sized or large sized.
This monochrome laser all in one laser printer can help you save time with single pass duplex 2-sided copying and scanning because of the automatic document feeder. Through the 50-sheet automatic document feeder, Brother printers save time with single pass duplex 2-sided copying and scanning. Here the 50-sheet automatic document feeder means the max capacity of a document is 50-sheet. That is, if your document sheets are less than 50, you can finish single pass duplex 2-sided copying and scanning more quickly.
2. Functions of Brother  MFC 2750
These Brother genuine printers are mono laser all in one printers, which means they are multifunction printers. So they can do lots of things such as print copy scan and fax.
First of all, we will talk about the printing function. The print quality of this printer is great.  If you want to have fast printing, you can try automatic duplex printing. Before having automatic duplex printing, you need to reset the default settings (change from default setting required). With the 2-sided printing, you can enjoy high speed printing and save your cost per page. Because the 2-sided printing can reduce waste powder.
Then, we will talk about the fax copy and scan functions.  Like printing, the offering multi page copy scan fax can also do double sided printing.  If you want to change the default settings, you can change from the default setting required.
The third function we want to introduce is multiple connection modes. Besides the high speed USB, there are lots of wireless networking connection modes include Ethernet, Wi Fi, Wi Fi Direct, and NFC. Also, you can use the cloud apps in the mobile device to print from and scan to popular cloud services. But the mobile device must have NFC capability. There are lots of cloud apps, so it must be an app for your mobile device that you can print from and scan to popular cloud services.
3. Steps of Brother Genuine MFC 2750 Printing and Scanning
Many people will face many troubles when printing and scanning. Only after when you fully understand the principle and structure of the printer then you can better use the printer.
The printing principle is to transfer the pattern to the paper by processing the electric charge. And there are seven steps in fast printing, namely Charging, Writing, Developing, Transferring, Fusing, Cleaning, and Discharging.
First, PCR will charge the uniform negative charge to the OPC drum surface. Then, the laser will scan on the OPC drum surface and the irradiated surface will become conductive from negative. After that, the toner that having a negative charge on the surface of MR will adsorb to the latent image. Then it will form a visible toner map. In the fourth step, the transfer roller will give the paper one layer of positive voltage. So that the negative charge toner will be attracted to the paper. Then, the toner will form a fixing image on the printing media under the action of heat pressure. Due to the physical attachment, the toner on the OPC drum surface will not be 100% transferred. So the wiper blade will remove the residual toner and collect them in the waste bin. Finally, the PCR will remove all charges on the OPC drum surface for the next cycle of printing.
The working principle of scanning is to convert optical signals into digital signals. When the scanner is working, the light will shine on the documents. Then it will produce optical signals. The optical system will collect these optical signals and then transfer them to the CCD. In that way, the CCD will convert and process the signals to make them become digital signals. Finally, the computer will receive a complete image.
4. Comparison of Other Laser All in One Printer
Not only Brothers, but other brands also have laser all in one printer. For example, the HP Laserjet series and Canon ImageCLASS series. Their working principles are the same and the print quality is similar. Therefore, the main consideration when choosing printer is their price and size.
Comparing with printer which price is high, the medium price of Brother MFC-L2750DW XL is very suitable for home offices and small offices. And it is smaller than many HP Laserjet series and Canon ImageCLASS series printers for it  weighs 27.7 pounds. It will not take up too much space no matter where it is placed.
Of course, you can also compare the printer based on your own needs. If you often use the scanning function, then the printer with powerful scanning function should be your first consideration.