Note: These compatible HP 215A toner cartridges DO NOT contain chips.
How does it work?
You need to take off the chip from your HP 215A black original LaserJet toner cartridge, and install it to our compatible 215A cartridge to make it work. Installation Instructions
Please watch the installations video in the end part of this page for the specific methods of installing. Also, there is a set of instructions included in the packaging, to tell you how to switch chips and through one-time process on the printer's home screen to disable a supply setting.
What are the cartridge limitations?
Users will be able to print the supplies status page, but it will not provide the correct toner levels.

No "Toner Low" or "Toner Very Low" message will be prompted.

Cartridge end-of-life will have to be established by faded print.
About True Image compatible HP 215A toner cartridges
Why pay full price for genuine HP 215A cartridges- True Image compatible toner cartridge replacement for HP 215A are guaranteed to produce great prints and the same page yield as the OEM, but for a whole lot less. (Note that HP 215A black standard yield toner cartridge is also known as the HP W2310A / W2311A / W2312A / W2313A toner cartridge.)  

FREE SHIPPING on all orders, anywhere in the Continental U.S.A.! Order our cost-effective compatible 215A HP toner cartridge before 4:00pm PST or 5:00pm EST on business days and it will be shipped the same day.

You can shop with confidence knowing that trueimagetech.com cartridges are backed with a one-year 100% satisfaction and money-back guarantee.

Want a more favorable package? We recommend popular compatible single pack HP 215A to you. Save a lot with low average price at 

$31.99

per toner!
True Image SKU

TI-HP215A-1SET-NO CHIP

Product Brand

True Image

OEM Number
215A
Product Capacity
Standard Yield 
Shelf Life
24-36 Months
Page Yield

Black: 1050

Cyan/Yellow/Magenta: 850

Cost Per Page
3.00 cents
Good quality.
Perfect. Worked as designed.
Brilliant
he delivery is very fast, the packaging is very good, and the ink cartridges are well protected. The print quality is first-rate and the quality is very impressive. This is a good purchase. It saved me a lot of money, and I will buy it here in the future.
it works & fits
These ink cartridges installed easily and worked just like the OEM ink that came with the machine, other than needing to clean the print head a bit more often. I just put a cartridge in and started printing.
Easy to install
These print cartridges don't have chips that come with them, so you remove the chips from your old cartridges and install them in these. These cartridges print exactly as well as the originals and last just as long. The only downside is that the printer does not recognize that the cartridges are new, and so the warnings for "toner low" continue as before. If you don't mind the removal and replacement of chips, these cartridges are an excellent low-cost method for replacing your toner cartridges.
Compatible Printers with HP 215A Color Toner 4-Pack Compatible, Black, Cyan, Yellow, Magenta (No Chip)
HP Color LaserJet Pro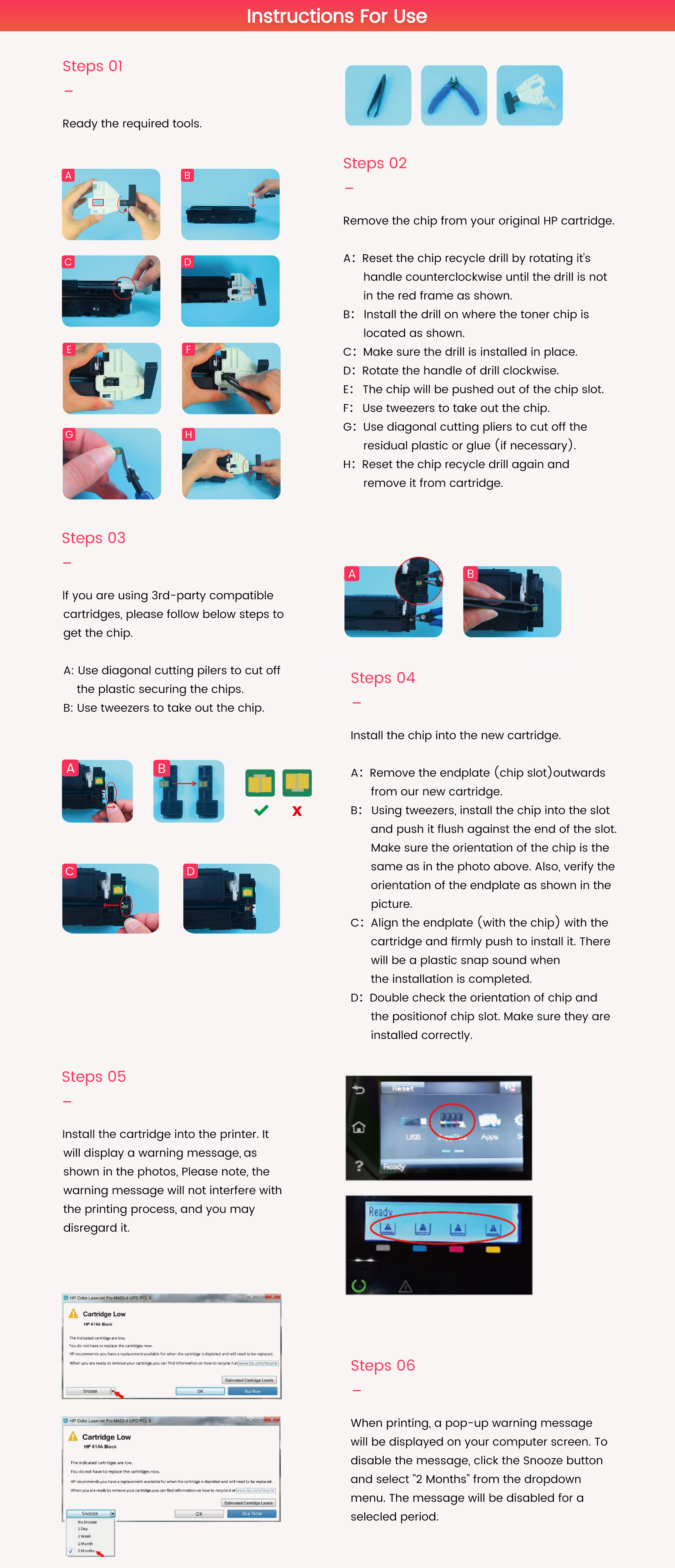 HP 215A Color Toner 4-Pack Compatible, Black, Cyan, Yellow, Magenta (No Chip) Related Products