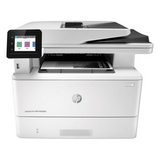 True Image provides superior compatible HP LaserJet Pro MFP M428fdw toner replacements at a low price. We have both standard yield toner CF258A and high yield toner cartridge CF258X for you to choose from. So whether you are a home user or an enterprise user, you can choose the right toner according to your needs. Moreover, we provide complete
CF258X compatible toner with chip
. No DIY process is needed before installation. Your M428fdw printer will recognize it once you install it. That saves your time on replacing a toner cartridge. Besides, buying our compatible HP MFP M428fdw toner is an excellent way to help you save money and enjoy high print quality. We also guarantee customers a one-year warranty. Want an economical and practical toner? Come and buy at True Image!
Why Choose True Image Compatible HP LaserJet Pro MFP M428fdw Toner Replacement?
Compatible HP MFP M428fdw toner with good quality
Our HP MFP M428fdw toner is manufactured to ensure that you will have reliable quality. True Image has more than 20-year experience in the printing industry. We assure you of the tightness of HP compatible M428fdw toner. Its shelf life can be 24-36 months. And also, we use dependable material sources to reduce harm to the environment. 
Compatible HP M428fdw toner with outstanding print performance
With thicker coatings OPC drum, True Image M428fdw toner ensures a long-lasting printing experience. In addition, our crisp black toner can improve the precision of printing. You will be able to print sharper text and more wonderful images. Not to mention its fast running speed. By using our compatible toner, you can spend less on both your money and your time. Therefore, they are good school and office supplies for buyers.
Various yield page options for HP LaserJet Pro M428fdw toner
We have standard yield toner CF258A for the M428fdw printer. It can print 3,000 pages. On the other hand, high yield HP M428fdw toner CF258X is available on our website, too. It has outstanding high page yield of 10,000 pages. So the cost per page is low enough to worth your try.

HP LaserJet Pro MFP M428fdw toner replacement with favorable price
True Image offers you the greatest price with no poor quality. Besides, buy our HP LaserJet Pro MFP M428fdw toner cartridges as 1-pack or 2-pack enjoys more discount. For instance, if you purchase a 2-pack, then you will save almost half the money. Even if the HP LaserJet printer does not cost a lot, its original toner cartridge costs more than other compatible toners.
Considerable service for HP M428fdw toner replacement
There is no need to worry about the after-sales service on True Image. Our local suppliers deliver products in 1-3 days. Moreover, order our compatible toner before 4:00 pm PST or 5:00 pm EST on business days and it will be shipped the same day. Also, as native speakers, customers can fluently communicate with them. Meanwhile, the amount of your money you spend over 30$, free shipping is served for you. At last, ask whatever you want to know, we will solve your problem at any time.
FAQ about HP LaserJet Pro MFP M428fdw Toner Replacement
1. What toner does HP LaserJet Pro MFP M428fdw use?
HP M428fdw printer uses CF258A and CF258X toner cartridges. They also work well with HP LaserJet Pro M404n, HP LaserJet Pro M404dn, HP LaserJet Pro m404dw, and HP LaserJet Pro MFP m428dw. If you want more economical compatible toners, you can buy a 2-pack of HP 58A/58X toner cartridges to save more money.
2. How to install compatible HP58X toner in HP M428fdw printer?
When your HP58X toner runs out, you need to replace it with a new one to continue printing process. Here is the instruction to guide you install a compatible HP58X toner with chip in the right way:
First, open the HP printer cover and take out the empty toner.
Then, shake the new toner cartridge 5 to 6 times to distribute the toner evenly.
Next, take down the protective cover of your new toner. Please do not touch OPC with your hands directly.
And, pull the cartridge sealing tape out from it.
Finally, put the new HP58X toner into your printer and close the cover.
3. What is the function of HP M428fdw toner chip?
HP M428fdw toner has a unique chip that uses HP anti-fraud technology. The chip is used to allow the printer to recognize the toner and monitor the current toner cartridge usage and storage. It will send warnings to your PC and printer when toner runs low. HP M428fdw toner with a chip is more expensive than non-chip one because of the cost of chip.
If you order our HP M428fdw toner cartridge without chip, please make sure you install the OEM toner chip before use. Otherwise, your printer will not recognize the new toner and will display an error message. Don't want to spend time on chip transfer? Order our HP M428fdw toner with chip at a discounted price now.
4. How many times can I reuse the HP M428fdw toner chip?
If you are using an HP M428fdw toner chip, it can be reused over and over again. Besides, reused HP toner chip will not be blocked by HP firmware update. So you can feel free to buy our CF258 no chip version. The only limitation is that the reused toner chip does not support your printer to provide accurate toner level. However, this does not affect your normal printing. You can continue to print till the toner runs out. When the printout is getting light, it's time to replace toner.
Regarding compatible HP M428fdw toner chip, we can assure you that ours can be reused over and over again. So it's an option for you to buy our chip-ready toner first. Then reuse the chip on a no chip version to save cost. If the compatible toner chip is from a 3rd-party supplier, you'd better confirm with them before you buy a non-chip toner.
For CF258A and CF258X without chip, we provide a special chip recycle tool to get the chip from original toner safely. It's really easy to use. You can finish the chip transfer process within few minutes. Here is a chip transfer instruction for your reference.
5. Will you divulge the personal information I left?
Many online stores will need customers to register their accounts to continue visiting its website. At that time, customers may concern that online shopping will let out their privacy. But when you buy things on True Image, we promise to protect customers' information legally. They can shop HP M428 toner on our website confidently.

6. What is a toner level and how to check it on HP LaserJet Pro MFP M428fdw printer?
A toner level means the amount of your toner that still exists in toner cartridge. Check toner levels regularly to assess the remaining toners. When toner becomes low, purchase replacement toners to keep the print quality of the printer. And install a new cartridge or reload toner when the toner is used up.
How to check the toner level HP LaserJet Pro MFP M428fdw printer? Many HP printers display toner levels on the control panel. Just turn on your printer and look for the toner level indicator. It will display on the LCD screen.