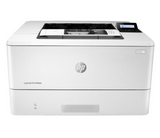 Our HP M404n toner replacements include high yield CF258X compatible toner and standard yield compatible HP58A toner cartridge. And they are designed to the same original specifications and performance standards as the original HP black toner cartridges. Purchasing our compatible Pro M404n laser toner is a great way to save money while maintaining high quality. Our M404n compatible toner cartridges do not void the printer warranty and are backed by a 100% Satisfaction Guarantee.
Why choose HP LaserJet Pro M404n toner cartridge replacement from True Image?
High quality chip. Our HP 58X compatible toner cartridges are equipped with high quality chips, which can be perfectly recognized when installed. Besides, our CF258XC replacements have strong compatibility with HP laser printers and can keep the printers working continuously and stably. What's more, the page yield of CF258X is up to 10,000 pages at 5% coverage. And it does not have to be replaced frequently. So, the super high volume M404n toner can not only save printing costs for you, but also help you improve work efficiency.
Industry-leading toner and components. HP LaserJet Pro M404n toner replacements are made of high quality toner with fine and uniform particles. It is conducive to the coordinated movement of toner in the printing system and is not easy to wear the cartridge accessories. In addition, the high precision gears of our compatible HP M404n toner make the grayscale smoother. And its rotation is more stable without paper jams, and the printed pictures and texts are clearer and sharp. Furthermore, our primary charging roller has good wear resistance and uniform charge load, which is suitable for all kinds of environments. The print quality will not be affected under the rated environment of high temperature and high humidity, low temperature and low humidity. The printing and fixing will be firm, the lines will be smooth, and there will be no ghosting and bottom ash.
Affordable price. The biggest advantage of our compatible HP M404n toner is that the price is much lower than the original HP. And it can meet the cost saving needs of most customers. When the printing demand can be met, the cost performance is generally seen from the cost of a single page. The original HP 58A cartridge costs $110.89 and can print about 3,000 pages at 5% coverage. A single page costs about 3.69 cents. In comparison, True Image HP CF258A compatible cartridge costs only $38.99 and can also print 3,000 pages. A single page costs only 1.29 cents. Its printing cost is much lower than that of the HP genuine toner. Moreover, the print quality of our M404n toner replacements can almost reach the same level as the original manufacturer brand. As a result, the cost performance of our HP LaserJet Pro M404n toner cartridge replacement is obvious.
Free and fast delivery. All orders in True Image over $30 are shipped free of charge. Furthermore, if you pay before 4:00 p.m. PST or 5:00 p.m. EST, your order will be shipped by FedEx Ground from our nearest warehouse the same day. Therefore, you can expect to receive your order within 1-3 days. Buy the compatible HP LaserJet Pro M404n toner cartridges on this page now!
Excellent after-sales service. We are committed to bringing you a pleasant shopping experience. Therefore, you can consult us if you have any doubts about the HP LaserJet Pro M404n toner cartridge replacement. Our professional after-sales service personnel will give you detailed answers. In addition, we will provide you with solutions to common faults of the HP M404n toner. And we will offer you the guidance tutorials such as the toner cartridge replacement video. In order to ensure your rights and interests, we will bring you better after-sales service. You are welcome to supervise our work and put forward valuable opinions.
Frequently asked questions and answers regarding the HP LaserJet Pro M404n toner cartridge replacement
1. How do I replace the cartridge in my HP LaserJet Pro M404n printer?
(1) Open the printer cover and remove the used toner cartridge.
(2) Shake the new HP M404n replacement toner 5-6 times horizontally.
(3) Remove the orange Protective cover from the new cartridge. Warning: The OPC is extremely sensitive. Please refrain from touching it with your hands.
(4) Pull the cartridge seal out of the new toner cartridge.
(5) Replace the new HP LaserJet Pro M404n toner cartridge replacement in the HP printer.
(6) Put the printer cover back on.
2. Is it simple to remove HP LaserJet Pro M404n toner cartridge replacement from the printer?
Perhaps everyone who owns a laser printer has encountered this Problem once or twice: the insertion or ejection of the toner cartridge is not as smooth as you would wish. The solution is to gently insert and remove the HP LaserJet Pro M404n toner cartridge replacement. Remember that any laser printer depends on the precise alignment of all components for optimal output. If the cartridge seems to be difficult to load or remove, gently wiggle the cartridge on the left and right sides.
3. Does using HP LaserJet Pro M404n toner cartridge replacement void my printer's warranty?
Using our LaserJet Pro M404n toner compatible cartridge will NOT void the warranty on your HP printer. Each process of our HP M404n compatible toner cartridge has been strictly tested. From the selection of raw materials to the production of products, each pass is checked by professionals for rigorous inspection and testing. Therefore, you can rest assured to buy our high quality HP LaserJet Pro M404n toner cartridge replacements.

4. Is True Image compatible LaserJet Pro M404n toner as good as HP genuine?
We can say for sure, yes. Our M404n toner replacements match the HP laser printers perfectly, and we use environmentally friendly and reliable accessories and raw materials. As a result, our compatible cartridges are durable and can prolong the service life of the printer. In addition, our HP LaserJet Pro M404n toner cartridge replacements are filled with sufficient toner. It can ensure that the printing effect and page output can reach or even exceed the printing level of the original HP cartridges.
5. I hope you won't sell my personal information. Can I trust you?
YES! We promise not to sell our customers' personal information to third parties. On the contrary, we will implement appropriate management and technical safeguards to ensure the security of your information.
6. How do I switch the HP M404n toner chip from the OEM toner to the new compatible toner?
(1) Reset the chip recycle drill by rotating its handle counterclockwise.
(2) Install the drill on where the toner chip is located.
(3) Make sure the drill is installed in place.
(4) Rotate the handle of the drill clockwise.
(5) The chip will be pushed out of the chip slot.
(6) Remove the chip.
(7) Reset the chip recycle drill again and remove it from the cartridge.
(8) Use diagonal cutting pliers to cut off the residual plastic or glue (if necessary).
(9) Check the chip orientation to make sure it is correct. Then use the tweezers to place the bottom side of the chip into the chip slot at an angle.
(10) Press the upper side of the chip into the chip slot with the tweezers' handlebar.
You can refer to the Chip Transfer Instruction for HP 58X Toner page.