This product is guaranteed to work with below printers:
HP LaserJet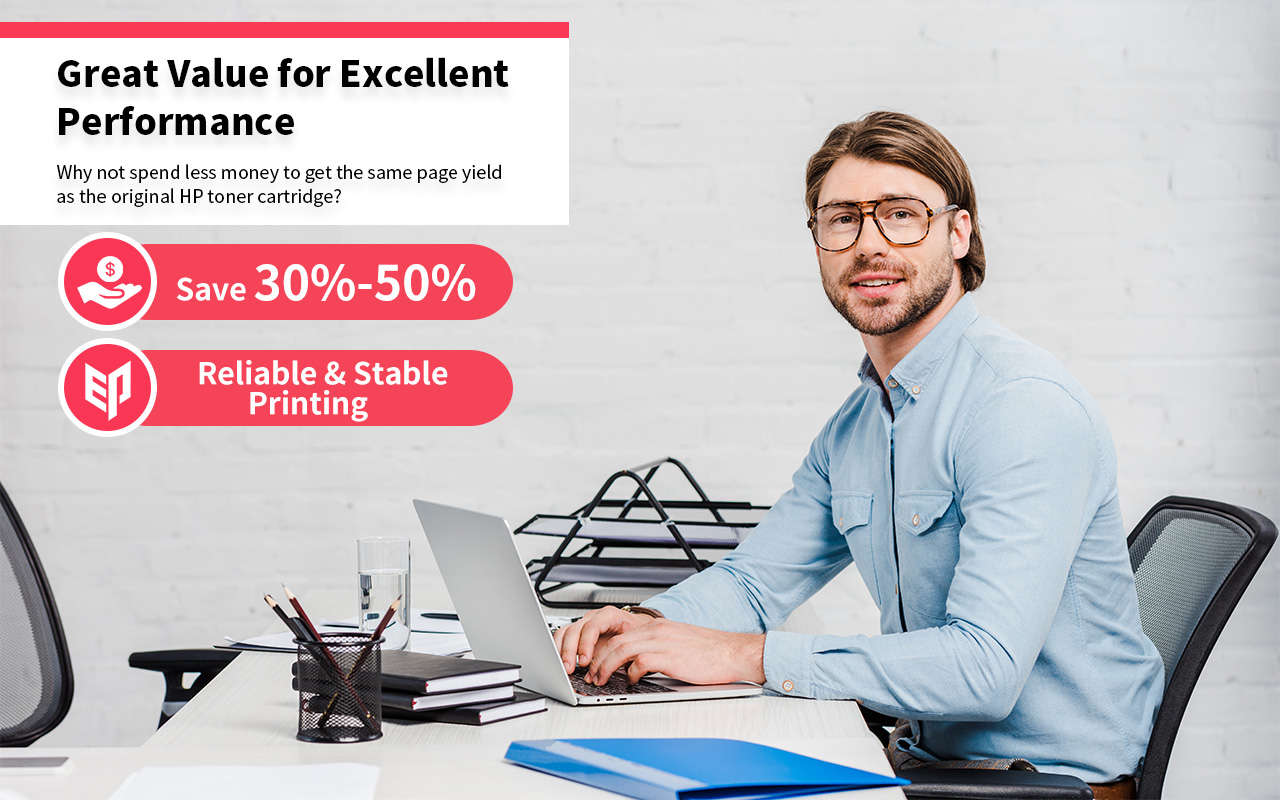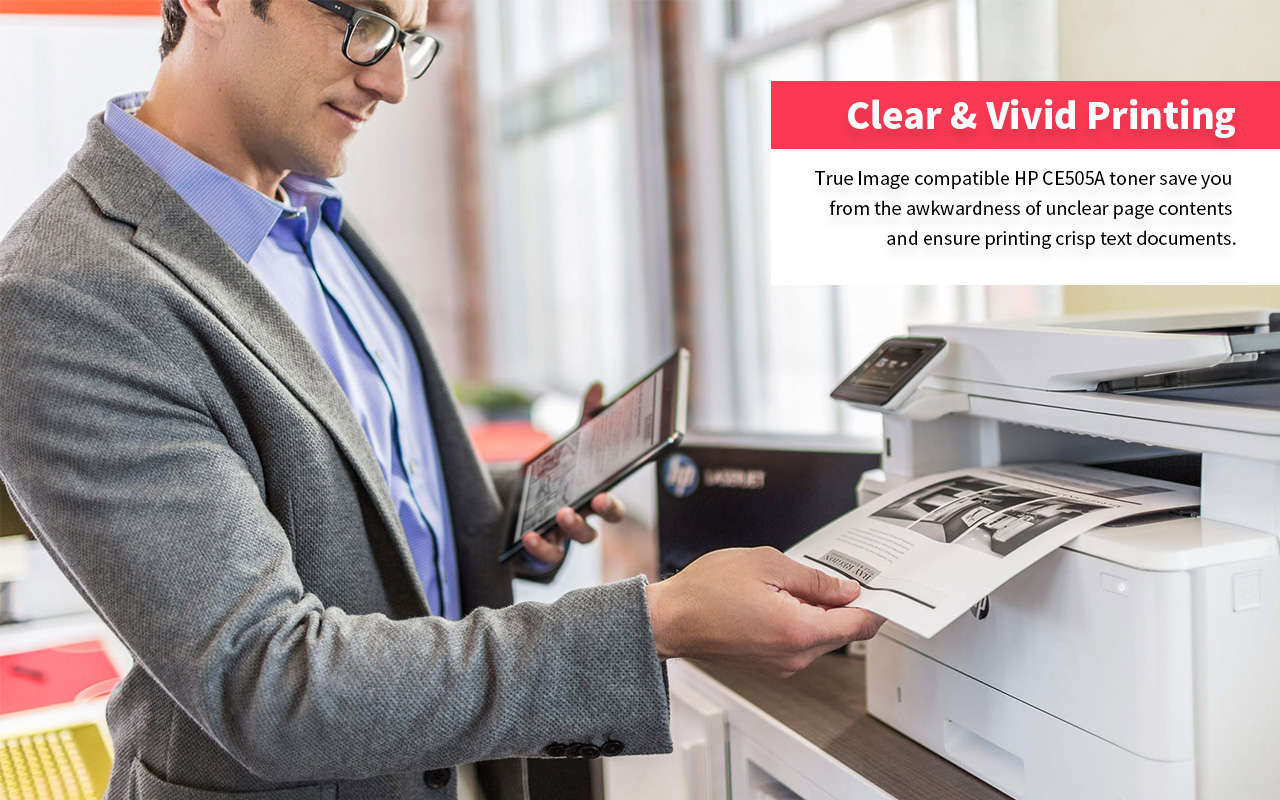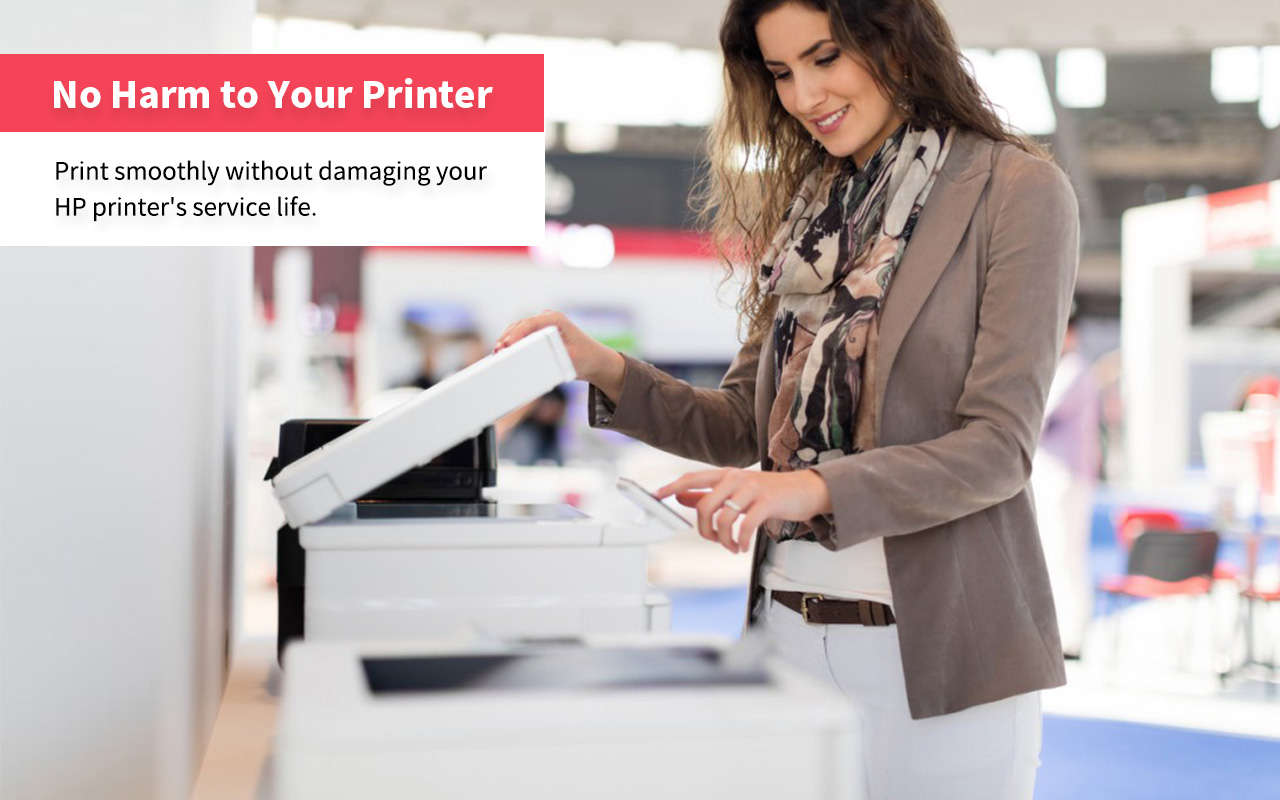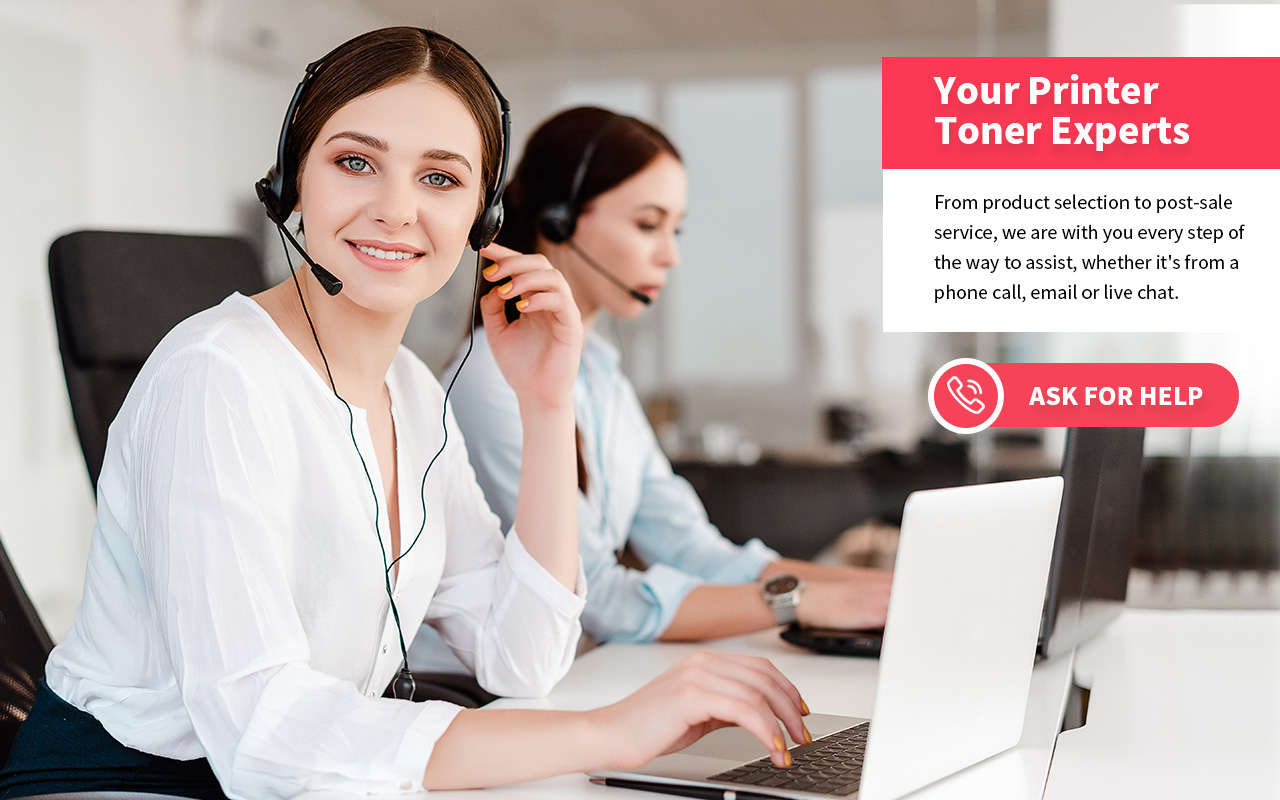 Compatible HP 05A CE505A Black Toner Cartridge With Chip Description
There is such a word to say, if you work at it hard enough, you can grind an iron rod into a needle. This is what we have been doing for more than a decade. For more than ten years, it is neither long nor short. But only we know what we have done all along. Our team of engineers study the chips of various ink and toner cartridges day and night. So far, our company has applied for hundreds of patents. The chip you see on our HP CE505A toner can't be so cheap if it is not because we have a patent.
In addition, we have also reduced unnecessary expenditures in other aspects as much as possible. For a high-quality and low-cost black compatible, you can't do much better than a CE505A ink cartridge, if you have at least $30 for your budget.
Well-Matched Printer Model of HP CE505A
Let us enumerate the compatible printer model for you in here, for you to clearly understood. There are HP LaserJet P2035, LaserJet P2030, LaserJet P2035N, LaserJet P2050, LaserJet P2055D, LaserJet P2055DN and LaserJet P2055X that compatible with our cost effective HP 05A toner cartridges.
Differences between Original Cartridge and Compatible HP CE505A
When you look for ink or toner cartridges, you will notice a variety of choices are available on the consumable market. For example, original cartridge, compatible cartridges, remanufactured cartridges as well as refilled cartridges.
1. Price
Needless to say, the biggest advantage of third-party compatible is the price. Why do people want to buy replacement from other brands in the first place? Mostly it is because of the sky rocketing cost of original HP 05A. Let us just take a moment to visualize that. A single original HP 05A costs $105.99 in the HP official online store, which means its printing cost is $0.4. While a single compatible HP 05A black toner costs $22.99, and the printing cost is $0.01. By itself this figure sufficiently illustrates the obvious fact we drive at.
2. Compatibility with HP Printer
We hereby solemnly guarantee that our toners will not have the problem of printer recognition. With the smart chips, our HP toner cartridges work with HP printer just fine as the OEM products. Moreover, none of the customers have ever said our products are not easy to install. As long as you put the cartridge along the track inside the printer, it will lock into place smoothly in the twinkling of an eye.
3. Page Yield
To be frank with you, though our commodities have the same page yield as the genuine ones. The original manufacturers never fill their cartridges with enough toners in order to gain more interests from the deal. If you use our replacements properly, we can assure you can print more printing pages than 2,300 pages only. It's the same for CE505X.
4. Quality
You can always rely on the high quality of genuine consumables and know that their performance will be good. However, this does not mean that compatibles are not good. If you choose a reliable manufacturer like True Image, please carefully check the evaluation and store level. And buy products with high sales volume, you should get excellent documents page after page.
5. Warranty
Compatible products will not violate the printer's warranty in any circumstance. Furthermore, the 1-year satisfaction guarantee and 2-year warranty we provide are longer than most of the brands in the market. We can assure you they are simply about safeguarding your welfare.
Store your HP CE505A Toner Properly
First of all, the most important thing to consider is to store the Compatible HP 05A black toner in the same environment where you use your HP printer. You should keep your HP 05A toner cartridges in a environment where the temperature and humidity are under reasonable control. And Please do not put your HP CE505A toner replacement at temperature greater than 40 ° C, humidity range less than 20% or greater than 80%, where you can get direct sunlight or fill with dust. These are fatal injuries to your compatible.
If you remove the toner cartridge from the printer, store the toner cartridge correctly as follows until you can use them. For customers who do not have the original packaging, please cover the top opening of the toner box with paper and store it in a dark area without light. Or place the toner cartridge horizontally in the same direction as it is in the printer. And the photoconductive drum needs to face down.
Common Bad Printing Phenomena and Causes of HP CE505A
1. Toner leakage
In addition to the toner leakage before printing caused by poor sealing of the seal. Many parts in the cartridge will cause toner leakage during use. Such as defect of magnetic roller sealing felt, aging of doctor blade, deformation and loose adhesion of roller sealing blade. As well as defect or aging of sealing sponge, deformation and loose adhesion of cleaning blade, etc.
2. Cannot print out both full white version or light and fuzzy
(1) The seal is not opened.
(2)The cartridge is not shaken before pulling the seal, and the toner is not smooth.
(3) The laser does not shine on the drum, the light shielding plate of the cartridge is not opened. And the protective cover of the photosensitive drum is not open up.
3. Vertical black line, which refers to any unnecessary vertical line from top to bottom
Thin light vertical black lines are generally generated by the gap of the cleaning scraper or there is a national scratch on the drum. Thick and broken black lines with unclear edges are often folded by doctor blade.
4. Horizontal missing print, which refers to that the horizontal discontinuity on the printed paper cannot be printed
(1) Local exposure of photosensitive drum coating
(2)The photosensitive drum drive gear is defective, loose or defective.
(3) Coating defect of magnetic roll sleeve.
(4) Broken magnetic core or incorrect positioning.
(5) The magnetic silver sheath is seriously worn or deformed.
Specifications
| | |
| --- | --- |
| True Image SKU | TI-CE505A |
| Product Brand | True Image |
| OEM Number | 05A (CE505A) |
| Product Capacity | Standard Yield |
| Shelf Life | 24--36 Months |
| Page Yield | 2300 |
| Cost Per Page | 0.99 Cents |
Compatible HP 05A CE505A Black Toner Cartridge With Chip Reviews
good toner
The quality of this toner cartridge is much better than expected.
Great quality ink for competitive pricing
The best decision I ever made was to move from purchasing HP ink to generic ink. The cost savings alone is significantly great and the ink lasts longer than the HP ink we used to buy! I'm so satisfied that I've started purchasing the ink for everyone in my department to reduce our overhead costs. :)
Great product
This is the second time I ordered this product. It's great value for money and lasts a long time.
So far, so good
Works perfectly so far. A different non-hp brand I used left black lines across random pages, but this one has been great for over 100 pages.
New Printer Cartridge
Excellent print copies, as good as printer's factory cartridges.