This product is guaranteed to work with below printers:
Canon imageCLASS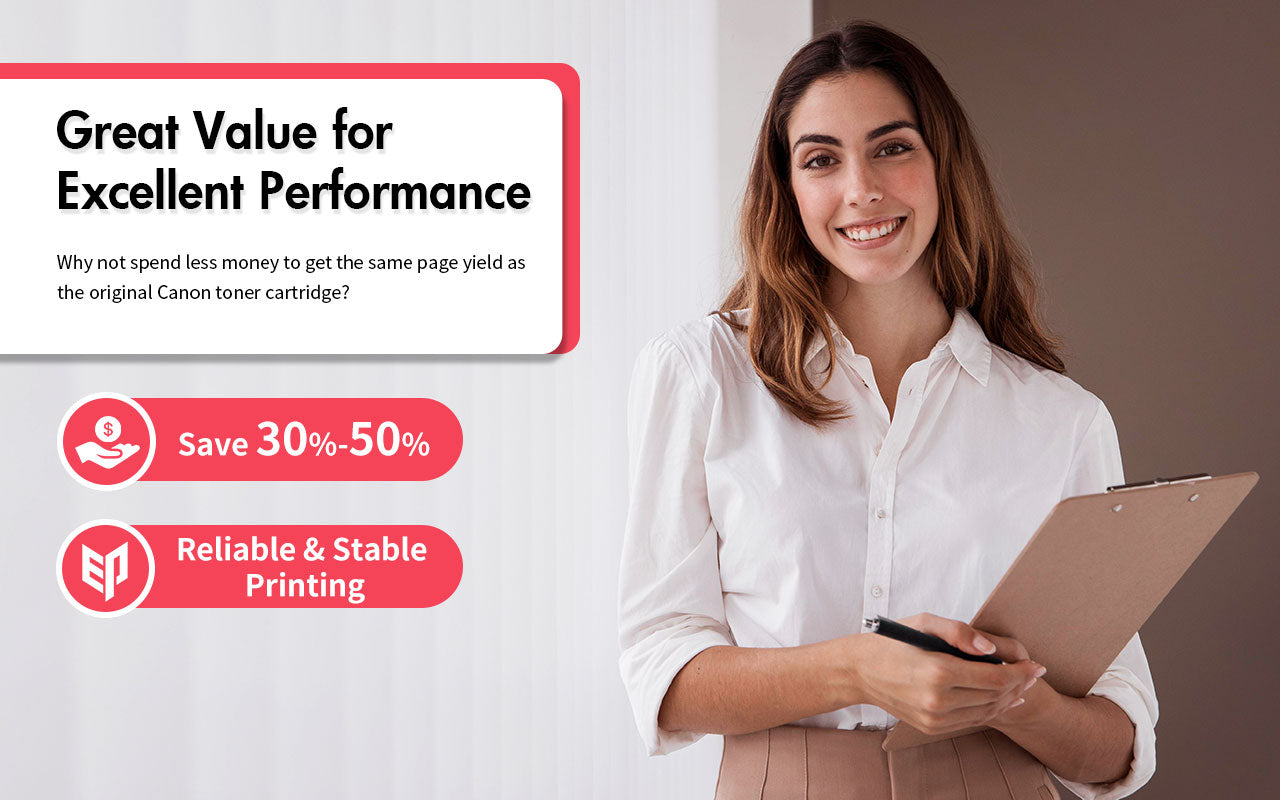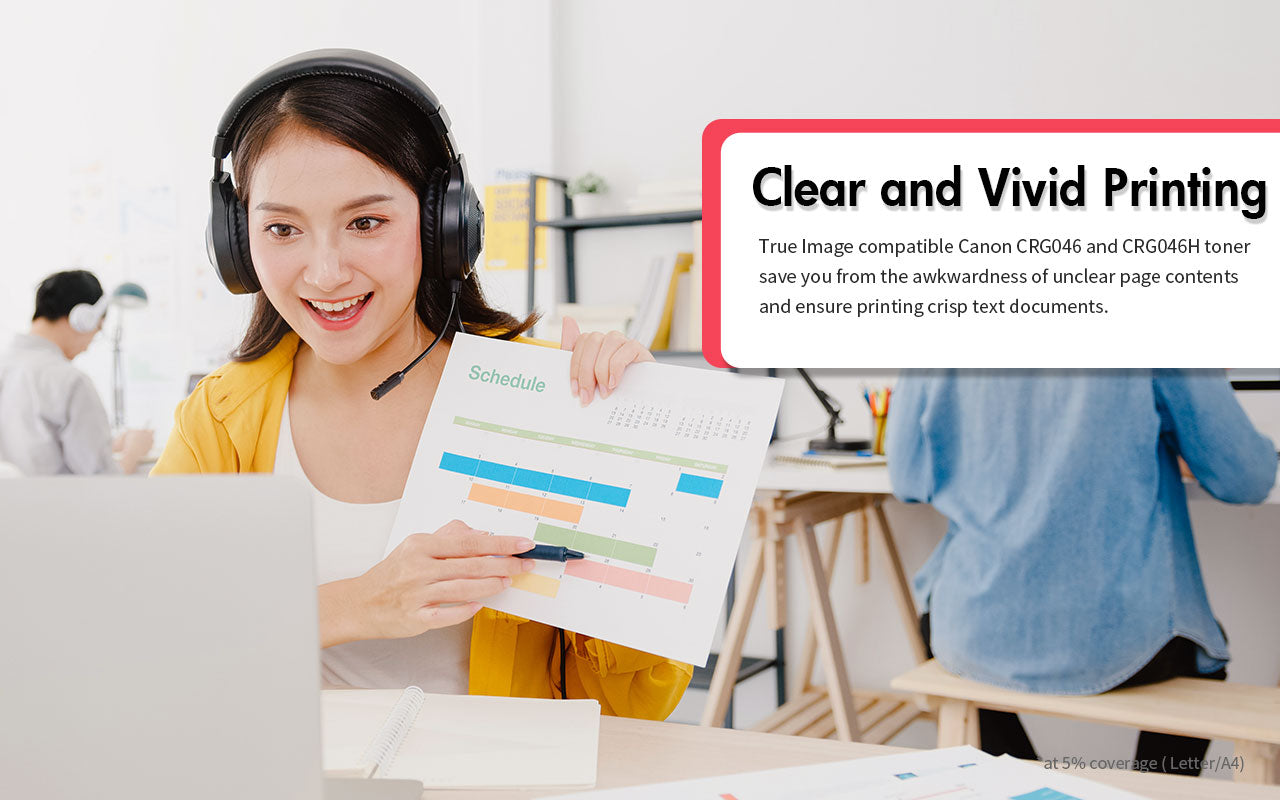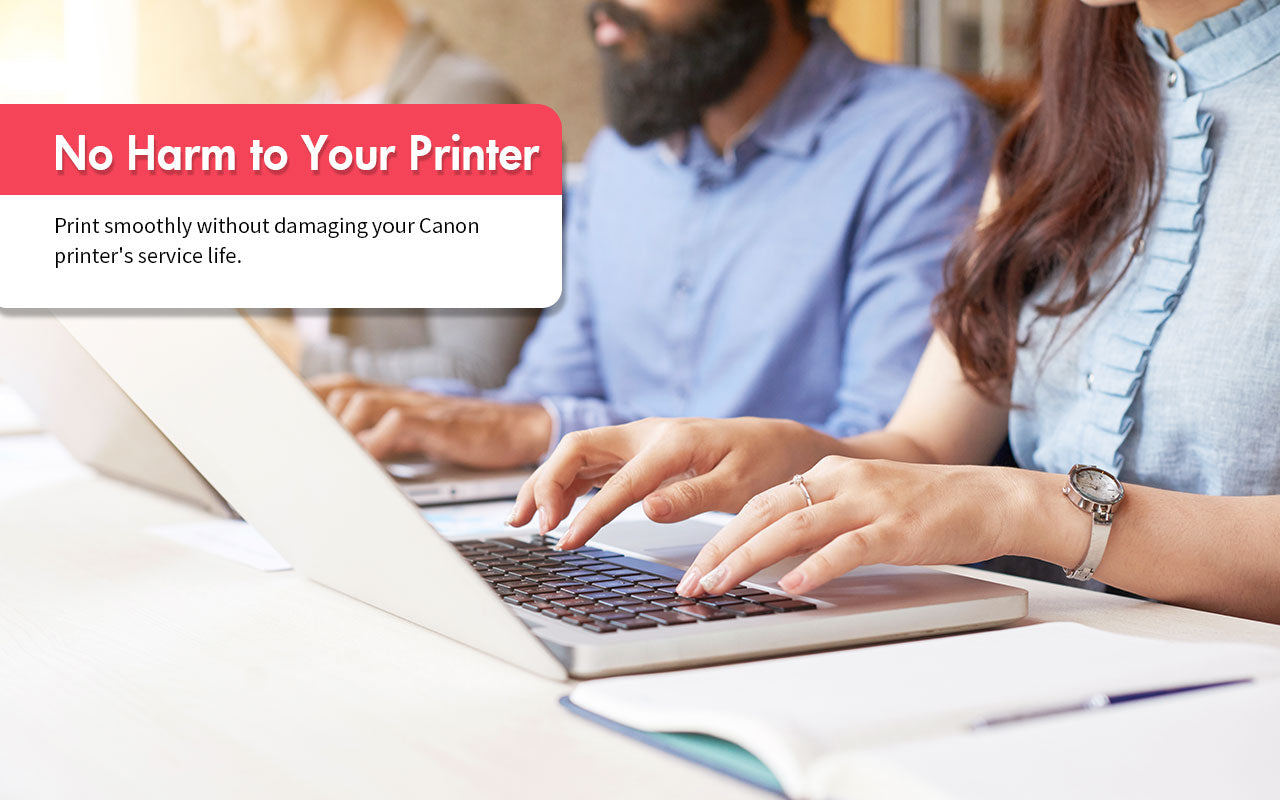 Canon 046 Toner Set, Compatible Canon MF731Cdw MF733Cdw MF735Cdw LBP654Cdw Toner 4-Pack Description
These Canon 046 toner compatible replacements have been sold for more than 4 years. We are proud to continue to supply these market-proven, high-quality toner cartridges.

Over the past four years, we have received a lot of feedback and suggestions from our customers. These valuable feedback and suggestions allow us to continuously improve product quality. And make these toners the best replacements available.
Print Quality
When it comes to quality, we have to mention our RMA record. Because it truly reflects the performance of these Canon 046 toner replacements. In the past 1 year, the average return rate (Quality Issue) of this product was only 0.06%. This is the result of 3 consecutive years of decline, proving that the quality of our products is getting better and better. Moreover, this return rate is far lower than that of whole industry.

The improvement of quality benefits from the valuable feedback and suggestions of our customers. And it also comes from the unremitting pursuit of quality by our manufacturers. Because we work directly with manufacturers, every feedback and suggestion from customers is passed on to the factory. And after careful evaluation, valuable feedback and suggestions will be adopted and immediately put forward in the next product update.

Therefore, we also hope that you can give us your valuable feedback after using our toner cartridges. Don't feel disappointed if you encounter quality issues. This happens occasionally, but our spirit of problem solving and perfection will keep you satisfied.
Cartridge Compatibility
Like the quality, the compatibility of our products is proven by the market. The genuine Canon cartridges work with Canon imageCLASS MF731Cdw, MF733Cdw, MF735Cdw and LBP654Cdw printers. Our products will work with these Canon laser printers as well.

These printers are great color laser printers for small business. They are Inexpensive. And their Canon 046 toner compatible replacements are also cheap but with good quality. Unfortunately, Canon no longer sells them. In its place are new printer models such as the increasingly popular Canon imageCLASS MF644Cdw and MF743Cdw laser printers. These printers use Canon 054 toner and Canon 055H toner set, respectively. If you want to replace the printer, these new models will be your good choice.
Cartridge Capacity
These Canon 046 toner compatible replacements are with standard capacity. The Canon 046 black toner cartridge yields 2,200 pages. And the color toner cartridge 046 Cyan, 046 Yellow and 046 Magenta yield 2,300 pages each.

Honestly, the design of these page yields is not very user friendly. As we all know, black toner cartridges tend to wear out faster than color toner cartridges. So in general, the page yield of black toner cartridges is higher than that of color toner cartridges. But that's not the case with these standard page yield cartridges.

Fortunately, Canon has taken this into account with the high-capacity Canon 046H toner cartridges. The high capacity Canon 046H black toner cartridge yields 6,300 sheets. And each high capacity color cartridge yields 5,000 sheets. That's much reasonable.

As every compatible Canon cartridge 046 is a complete cartridge system combines the toner and drum, you don't have to concern about the capacity of a drum unit.
Affordable Price
Last but not least, we offer affordable price for these Canon 046 toner replacements. Only need to pay $88.88, you will receive this valuable toner set. Plus, you will get free shipping if you are in Centinental United States since your order is over $30. What's more, if you subscribe with us, you can apply 10% off to your order.

Notes: Our store prices may vary in different season.

These Canon 046 Compatible Black & Colour Toner Cartridges available from True Image are with a 100% Satisfaction Guarantee. At a fantastic low price, but with absolutely no compromises with regard to quality, our Canon 046 cartridges is a great choice for your wallet and your printer. If you have one of the Canon printers listed in the compatibility section on this page, you'll find these cartridges are perfect for your office printing.

True Image is the perfect place to keep your printer working well. Select Canon ink and toner replacements from True Image. What you actually select is high quality, perfect compatibility and cheap price. Thanks to this low price Canon 046 Compatible Black & Colour Toner Cartridge.
Canon 046 Toner Compatible Replacements (KCMY) 4-Pack Specifications
| | |
| --- | --- |
| True Image SKU | TI-CRG046-1SET |
| Product Brand | True Image |
| OEM Number | Cartridge 046 |
| Product Capacity | Standard Yield |
| Shelf Life | 24--36 Months |
| Page Yield | Black: 2200 Pages, Cyan/Yellow/Magenta: 2300 Pages |
| Cost Per Page | 0.97 cents |
Canon 046 Toner Set, Compatible Canon MF731Cdw MF733Cdw MF735Cdw LBP654Cdw Toner 4-Pack Reviews
Worth the purchase
This product has worked great for me. The shipping was quick, the quality was great (I only do text and occasional elevation printouts for work), and lasts a decent amount of time. I'll be ordering again soon so I have a back up set in hand.
Value=Quality
I have bought other brands of toner and have not printed as good or lasted as long as this toner does. I will definetely buy again.
Works perfect & saved me money!
I purchased this toner to save some money vs buying a brand-name toner cartridge. I've been using it for a couple weeks now and all colors and black come out just fine, no issues at all! Save yourself the money and get this one, I'm glad it turned out so well!
Fair Price Without Paying for the OEM Part
They arrived full and replaced out the toner I needed on my current printer. Seems like the yield is about the same overall but not discernable difference in quality. Everything fit easy and simple to install in my current printer.
Excellent vendor.
Great print quality and great value Igor the money.