This product is guaranteed to work with below printers: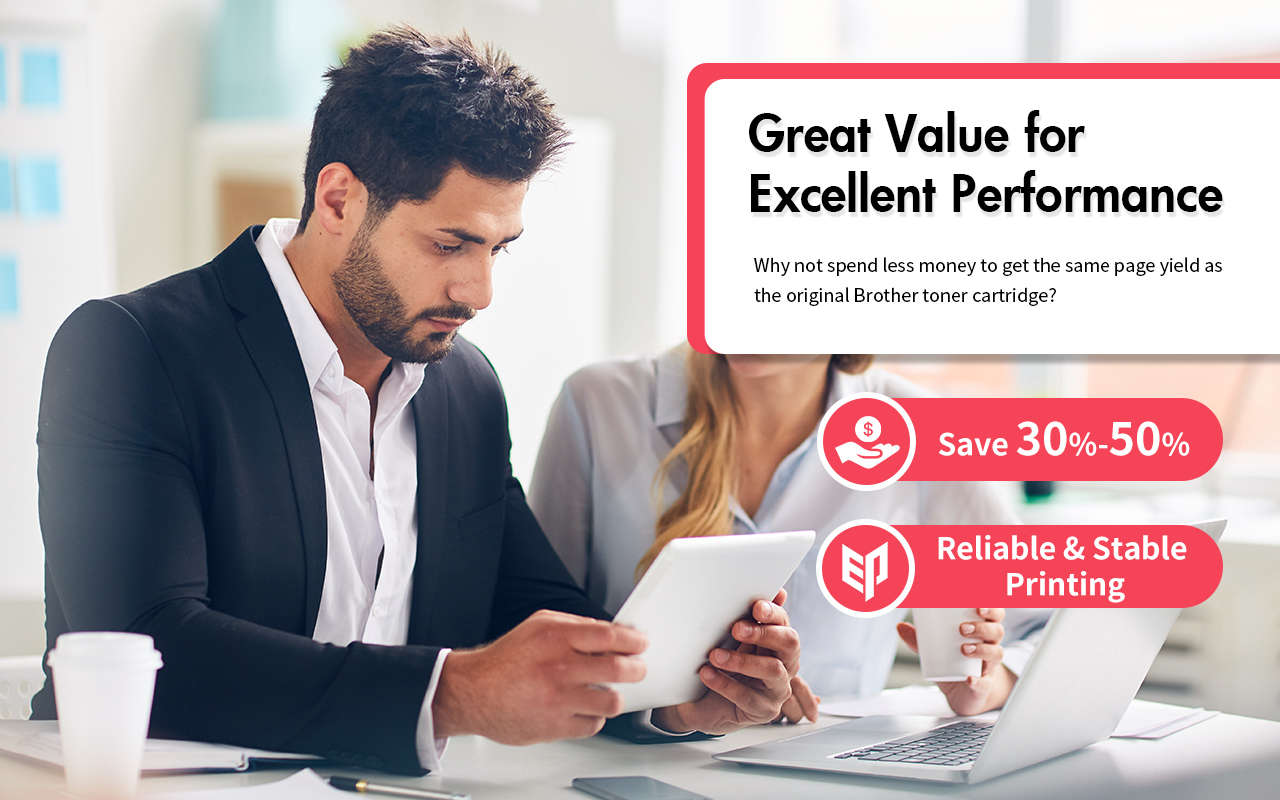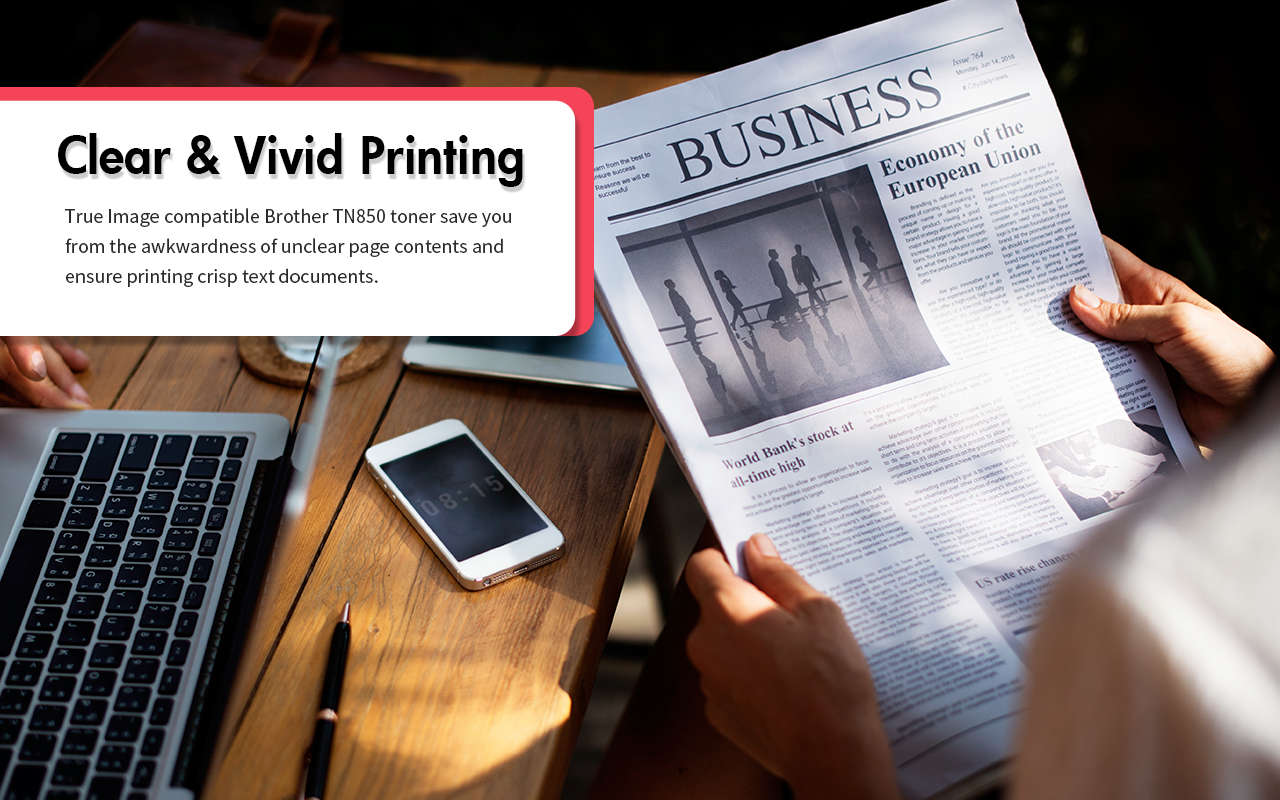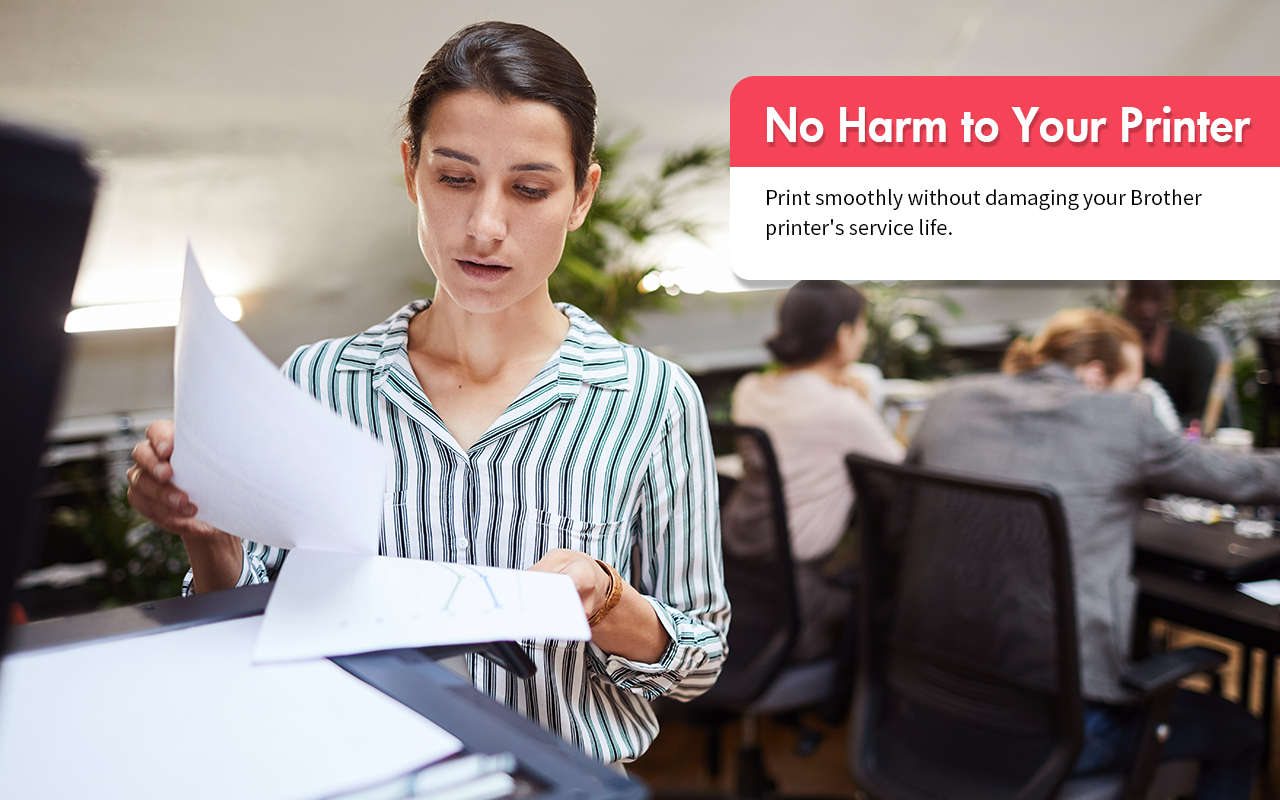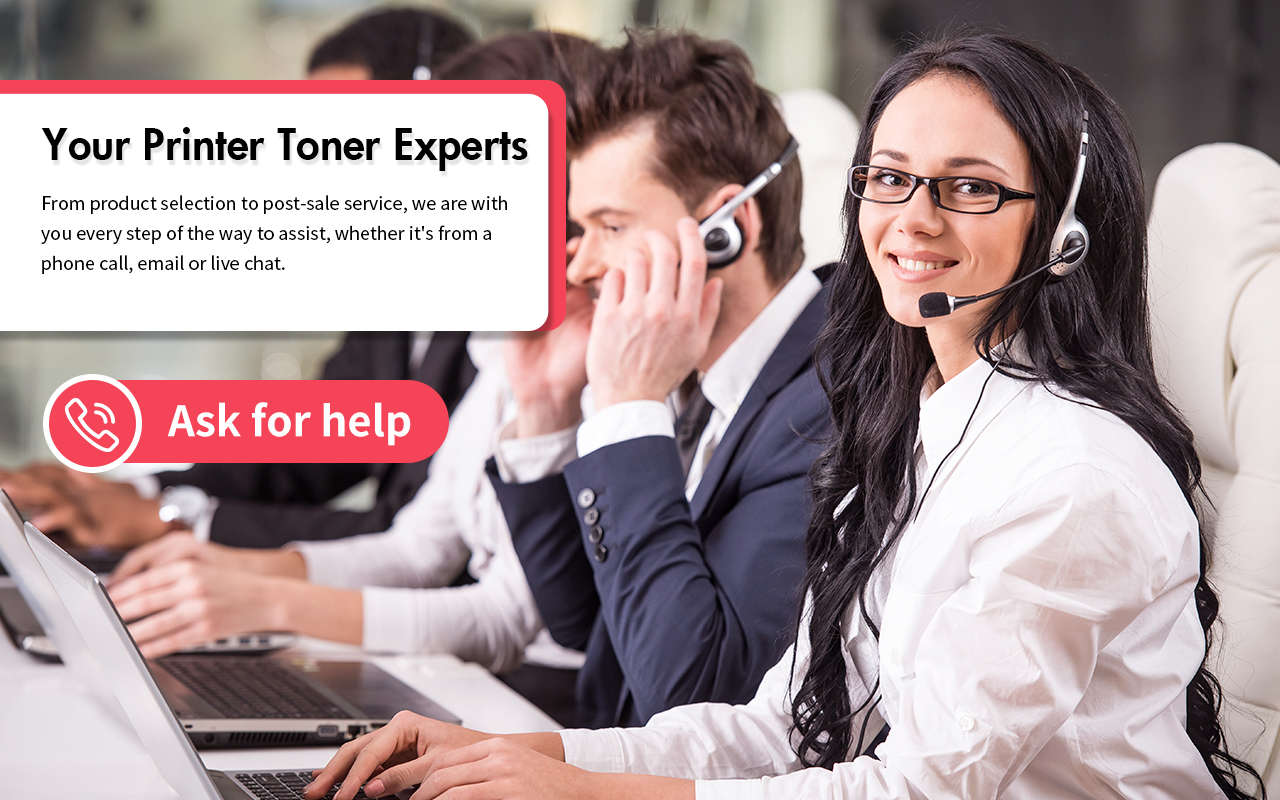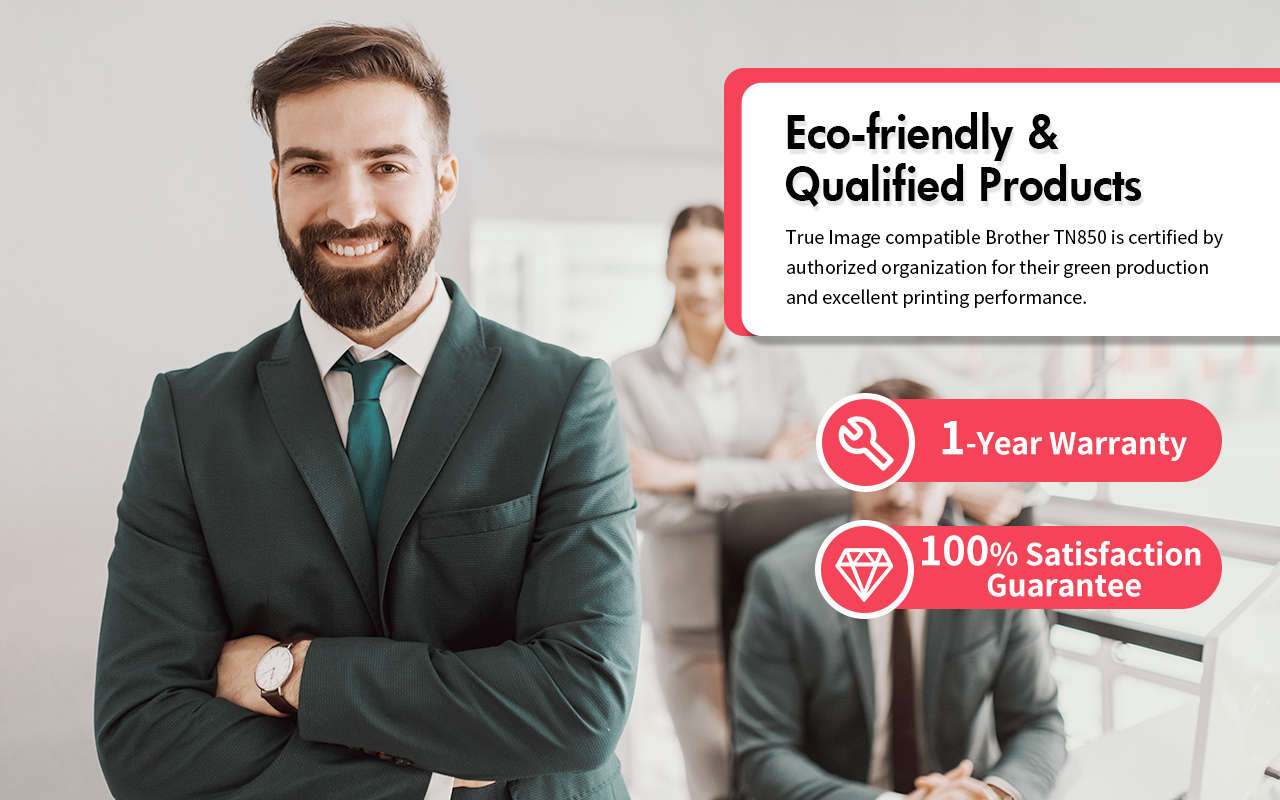 Brother TN850 Black Toner Cartridge Replacement Description
Brother TN850 Replacement is a good placement to reduce printing costs with a high page yield.
Brother TN850 high yield black toner cartridge replacement has the same performance as Brother genuine TN850 toner. There will be no problems working with your Brother laser printer. If you need to use a printer very frequently and you are looking forward to keeping down the printing cost, you are highly recommended to order our compatible high yield black toner cartridges. It can prints as well as Brother genuine toner, however, the prices may vary widely. You can buy our black toner cartridges at a favorable price, which costs less than half the money of Brother TN850 high yield toner cartridge. It cost per page only 0.24 cents. Meanwhile, you can enjoy high-quality printing. It yields up to 8,000 pages likewise Brother genuine high yield black. Furthermore, using our black toner cartridges can help you save both money and time to a certain extent. It can make your Brother laser printer last longer. By doing so, you have no need to change your ink cartridge so frequently. Therefore, it is obvious that our ink and toner will be satisfactory to you.
It will be a very happy shopping experience. For your information, we have over five million customers in 48 countries who are satisfied with our toner cartridges and are pleased to reorder. This Brother TN850 toner cartridge is compatible with 21 kinds printers, such as DCP L5500DN, DCP L5600DN, DCP L5650DN, HL L5000D, HL L5100DN, HL L5200DW, HL L5200DWT, HL L6200DW, HL L6200DWT, HL L6250DW, HL L6300DW, HL L6400DW, HL L6400DWT, MFC L5700DW,MFC L5850DW, MFC L6750DW, MFC L5800DW, MFC L5900DW, MFC L6700DW, MFC L6800DW, MFC L6900DW. If you find that your Brother printer is one of these models, you can have a try at replacing genuine cartridges with our compatible black laser toner cartridge. In order to dispel your concerns, you can search online whether someone has successfully used compatible cartridges instead of genuine cartridges.
Brother compatible TN-850 black toner cartridge will be well-packed and last 24-36 months.
Compared with Brother genuine TN-850, the quality of our toner cartridge also can withstand the test. You can find a little difference between them. You can set your mind at rest because our defect rate is less than 1%. Although the price is low, we wouldn't sacrifice quality. We select rigorously all the raw material and produce toner cartridges with advanced technology. Since 2011, we have always been applying ourselves to breakthrough technology challenges and supplying customers with professional compatible toner cartridges. Moreover, we have reached ISO9001 / ISO14001 standard and we will test all the toner cartridges strictly before delivering them to you. There will be no impaired toner cartridges for you. If you do get one, don't be worried. You can contact us on any business day, then you will get a full refund or another new toner cartridge.
The shelf life of this compatible Brother TN 850 black toner cartridge is 24 to 36 months. You can buy more than one at a time in case that your ink cartridge run out suddenly but you don't have another new one. If you aren't going to use it when you receive it, it doesn't matter that you keep it for 24 to 36 months. You will find that it is in unison with your Brother's printer after using it. A good toner cartridge is a reliable workmate.
With regard to environmental protection, we are engaged in producing recycled and remanufactured toner cartridges in order to reduce environmental pollution. Since environmental pollution is getting increasingly worse, all people should pay close attention to it. You can put used toner cartridges in some places, especially for recycling. What's more, we have reached environmental management system standards. We will never give up on self-improvement.
Customer service staff will be there if you need.
In terms of shipment, we will try our best to deliver toner cartridges to you from stock without any damage as soon as possible. When your order is up to 30 USD, the shipment will be free of charge for you. That means you can receive your toner cartridges anywhere in the Continental USA without any charge. Besides, we will pack it with original packing so that it wouldn't suffer damage. In case of force majeure, we will get rid of your trouble if you do receive damaged packing. Please inform us of your trouble if something like this happens to you.
We are pleased to tell you that there are one-year 100% satisfaction and refund guarantee for damaged toner cartridges at any time. Such perfect customer service is always ready for you. Please contact us by free online, live chat, or phone without any hesitation at the moment that you have any questions about our toner cartridges during the life of your toner cartridges. Our experienced customer service staff will give an early reply to you within 3 minutes on any business day and give your case immediate concern. We will be always there if you need help.
Specifications
| | |
| --- | --- |
| True Image SKU | TI-TN850 |
| Product Brand | True Image |
| OEM Number | TN850 |
| Product Capacity | High Yield |
| Shelf Life | 24--36 Months |
| Page Yield | 8000 |
| Cost Per Page | 0.24 cents |
Brother TN850 Black Toner Cartridge Replacement Reviews
Have been very pleased with the toner;)
Great product! Works very well.
Wow. Great price!
Great toner alternative to OEM. Nice sharp prints!
Brother Compatible TN850 Black Toner Cartridge
Great compatible toner!
Delivery was fast & easy. So glad to have an affordable option that works. Thanks!
Great value for money.
Great value product and printer worked great.