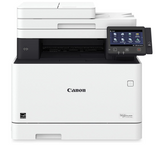 Canon MF743CDW toner replacement cartridges represent Canon 055 and Canon 055H series compatible toner cartridges. And both series include black cyan magenta yellow compatible toner cartridges, which meet the needs of the majority of customers. As the core component of the laser printer, the toner cartridge is related to the printing quality of documents and the stable use of the printer. The reason why our Canon imageCLASS MF743CDW toner replacement can win the trust of so many customers is that it has the following advantages.
Perfect match between compatible toner cartridge and Canon MF743CDW printer
To ensure that users can get consistent printing quality, our Canon MF743CDW toner replacements have passed multiple tests in quality. Besides, our compatible MF743CDW toner cartridges have been tested for compatibility and effectiveness with the relative printer models during production. Therefore, careful design and strict testing ensure that the cartridge perfectly matches the Canon Color imageCLASS MF743CDW laser printer. And the print resolution is up to 600 x 600 dpi. Our Canon MF743CDW toner replacements and printers work well together, and the color touchscreen delivers an intuitive user experience. Moreover, compatible MF743CDW cartridges assisting with print scan copy and fax capabilities help you accomplish necessary tasks with just one machine.
 In addition, our accessories have been manually polished tens of thousands of times, with strong wear resistance and practicability. And our cartridge adopts brand-new technology to ensure full utilization of toner and low waste powder rate. As a result, the failure rate is extremely low and the service life of the printer can be guaranteed. And our compatible toner cartridge for Canon MF743CDW requires no or minimal maintenance.

Compatible Canon MF743CDW toner cartridge with chip has higher stability for continuous printing.
The more important point is that we develop our own chip. So, our compatible MF743CDW cartridge can identify with the printer accurately and quickly, making printing more smooth and stable. And it provides reliable and consistent printing results with print resolution up to 600 x 600 dpi. As soon as you receive Canon MF743CDW toner replacement from True Image brand. You can actually feel the difference between our ink and toner replacements with inferior quality. For that, our idea of these low-quality products is objective. When a brand stops considering print quality as their priority while producing products. The market will eventually knock them out of this fierce competition.
 In addition, the page yield of Canon Color imageCLASS MF743CDW toner replacements is also superior. Canon 055 series are standard yield toner cartridges, while Canon 055H series are high yield toner cartridges. There is a difference in page output as the literal meaning between these two series. There are 2,300 pages for CRG055K and 2,100 pages for CRG055C, CRG055M, CRG055Y. And there are 7,600 pages for CRG055HK and 5,900 pages for CRG055HC, CRG055HM, CRG055HY at 5% coverage (Letter/A4). The quality of our Canon MF743CDW toner replacement is reflected in the internal components and printing effect. The components we use can ensure smooth printing and promise the number of pages to be printed to the greatest extent.

The printing cost of Canon MF743CDW toner replacement is economical and reasonable.
The unit price of our compatible ink and toner cartridges is very favorable. However, purchasing a set of Canon 055H poly-chrome replacement toner cartridges is unquestionably more cost-effective than a single Canon Color imageCLASS MF743CDW toner. For example, if you only buy one of the compatible CRG055K/C/M/Y (black cyan magenta yellow) toner cartridges, the price is $37.99. However, the price of a set of 4-pack CRG055K/C/M/Y is $131.99. And the average price of each cartridge is $32.99. Whenever the customers ask us for advice, we always recommend the poly-chrome Canon 055 set of toner. Moreover, if you observe carefully, the price between our standard and high yield toner for Canon imageCLASS MF743CDW is not that big. So for you, the price of color set toner for Canon MF743CDW with high page yield is a little higher than that. But the use cost is actually the lowest among them.
 Furthermore, use cost is always the most concerned topic of users. In enterprises, more than 80% of printed documents are used for display, review, approval, archiving, announcement, etc. These documents are essential and valuable information for enterprises. If the printed documents are not qualified, they need to be printed repeatedly, which is bound to cause significant waste. Therefore, the equipment maintenance time and maintenance cost caused by cartridges with poor quality also need to be considered. But if you buy our Canon MF743CDW toner replacements, you can rest assured. Our high quality cartridges will not cost you a lot of maintenance time and money. Because our compatible cartridge can help you reduce the printing cost, while its printing quality can reach the same level as the original Canon cartridge.

Compatible Canon MF743CDW toner cartridge is real environment-friendly. 
Health, the most important asset, is paramount to our customers. A green and healthy office environment can guard your health and let you work at ease. True Image attaches importance to printing security and is dedicated to creating an environmentally friendly and healthy office environment. Our compatible Canon imageCLASS MF743CDW toner cartridges are eco-friendly. And they have been tested and certified by many environmental protection agencies and institutions, and meet the environmental protection standards of many countries and regions. True Image takes full care of your printing health and solves your worries. So, choosing our Canon Color imageCLASS MF743CDW toner replacements means choosing high quality printing effect. At the same time, our compatible cartridges for Canon MF743CDW are designed to meet your printing needs for long-lasting durability. 
 So, from what we have said so far, CRG-055 Toner Set and CRG-055H Toner Set for Canon MF743CDW are the consumables that you don't wanna miss. Still, not only do we cover the express fee for total order amount of over $30. We also provide a 1-year limited warranty. Any problems, contact us in less than no time.
Want to know more? Please visit trueimagetech.com.

Frequently asked questions about Canon MF743CDW toner replacement
1. How long do compatible Canon MF743CDW toner cartridges last?
What determines the service life of our toner cartridge is the remaining amount of toner in the cartridge and whether the photosensitive coating can work normally. For example, our CRG-055BK can print 2,300 pages on A4 pages with 5% coverage. Generally speaking, the service life of CRG-055BK is from being unpacked and installed to the completion of 2,300 pages of printing.
Here are some ways to prolong the service life of imageCLASS MF743CDW toner replacements:
Rotate the toner cartridges. Replace a toner cartridge after using it for a while, wrap it in the original package and place it in a cool and dry place. It can restore the cartridge from temporary fatigue to a normal state. Use another cartridge during this period. The rotation of two cartridges can prolong the service life of each toner cartridge and keep the print quality stable.
Avoid frequent power on. When the printer is turned on, it usually takes several minutes for the device to be ready for printing. In the operation process, it needs to go through a series of procedures. Therefore, it is not necessary to press the shutdown button after each end of printing, just press the energy-saving button. In this way, the toner cartridge can immediately enter the ready state when printing next time. And the service life of Canon MF743CDW cartridge can be prolonged for a long time.
Avoid continuous printing in a high temperature and humidity environment. The photoconductivity of the toner cartridge decreases with the increase of temperature. Long-term use of MF743CDW compatible cartridges in a high-temperature environment will aggravate cartridges' aging, and this process is irreversible. When the ambient humidity is too high, the text of the printed document will be too black. Therefore, in the hot and rainy season, the continuous working time of the printer should not exceed half an hour.
Select high quality paper. The paper contacts and rubs with the Canon imageCLASS MF743CDW replacementcartridge during the transfer. The use of paper with uniform and fine texture can minimize the wear on the cartridge. It can also delay the aging process and prolong the service life of the toner cartridge.

2. Are cheap Canon MF743CDW toner replacements worth it?
Of course, yes. Although our toner replacements are cheap, our production technology of cartridges is very mature. And the quality of our imageCLASS MF743CDW toner replacement is not much different from that of the original Canon. The chances of quality problems with our cartridges are very low, and it requires no or minimal maintenance. In addition, True Image has over 20 years of experience in the industry with a good brand reputation and guarantee. Therefore, our Canon MF743CDW toner replacements are worth it, and you can buy them with complete confidence.
Everyone who comes to our website is our valued customer. We have only one attitude towards customers and take service first as the first principle. And the most significant aspect of a successful brand is to bring high quality commodities to every consumer in need. Now order Color imageCLASS MF743CDW toner replacements! We will also provide a 1-year limited warranty. If you encounter any problems when using our products, you can ask us for help through online chat, phone call or email. 
3. Do Canon MF743CDW laser toners dry out?
Toner is used in laser printers and does not dry out like ink cartridges. Toner, unlike ink, is a dry powder made of plastic components that do not dry out. You can leave the compatible imageCLASS MF743CDW toner cartridge in your printer for weeks and it will continue to print. 
4. Is high yield Canon MF743CDW toner 055H worth it?
A high yield cartridge contains more toner than a standard cartridge, allowing significantly more prints. And it can be used for more extended periods. Compared with standard yield Canon 055, high yield Canon 055H is more expensive, but it is frequently worth the extra money for users who need batch printing. Because users can reduce the replacement times of Canon MF743CDW toner 055H and cut down the cost per page printing. 
Want to know more? Please visit trueimagetech.com.