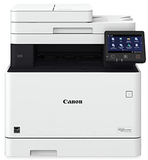 Canon MF741CDW toner replacements can be supplied from our stock. There are high-yield Canon 055H toner series and standard-yield Canon 055 toner series. And each both have four color options, black cyan magenta and yellow. Moreover, they can help you reduce printing costs without sacrificing the quality of duplex printing.
Why can you purchase Canon MF741CDW toner replacements from True Image?
High-cost performance. Compared with the original Canon ink toner, colour imageClass MF741CDW cartridge replacements from True Image have higher-cost performance. You can save a lot of money owning to the low per-page costs. Besides, We have a perfect quality Assurance System to guarantee quality. You may find your printing text with no smudges after using our Canon colour imageClass MF741CDW ink replacements. Furthermore, we wouldn't allow any defective compatible toner on the shelves.  
Environmentally friendly ink toner. All Canon imageClass MF741CDW toner replacements we provide can meet environmental management system standards. They are so environmentally friendly that they wouldn't lead to any environmental pollution. Besides, we can make full use of green raw materials so that no raw material will be wasted. We will continue to seek new methods to improve the quality. 
Free shipping. Free shipping for every customer living in the continental United States will be effective if the order exceeds 30 USD. That means shipment is free of charge. Besides, waiting for the delivery would take you a long time? If you order our Canon MF741CDW toner replacements before 4:00 p.m. PST or 5:00 p.m. EST on business days, we will apply the same-day shipment. While you can get a next-day shipment after 4:00 p.m. PST or 5:00 p.m. EST.
Preferential customer service. Fortunately, True Image is customer-focused, providing you with exceptional quality and service. In addition, we also offer gift cards, discounts for royal customers during most holiday season. You can subscribe to us for news and special offers.
At last, use of compatible Canon MF741CDW toner cartridge replacements will not viod your printer warranty. Just feel free to buy! 
Frequently Asked Questions about Canon MF741CDW toner replacements
1. Which toner is compatible with Canon colour imageClass MF741CDW laser printer?
Canon 055 toner cartridges are Canon MF741 toner. For your information, you can find many options below. The high-yield Canon 055H black toner cartridge can print 7,600 pages, while the standard-yield Canon 055 black toner can print only 2,300 pages. More than that, cyan magenta and yellow Canon 055 with a page yield of 2,100 pages are available. 
2. How to change a Canon MF741CDW toner replacement?
Step One: Turn on your Canon MF741CDW printer.
Step Two: Open the front cover by pressing the button on the printer's top left. 
Step Three: Take off the old toner cartridge.
Step Four: Shake the new cartridge five or six times horizontally and gently.
Step Five: Remove the orange protective cover.
Step Six: Insert the new toner cartridge into your printer and close the front cover.

3. Do they need a chip reset process before installing them into my laser printer?
No. True Image Canon 055H toner cartridges come with chips.
4. Is high-yield Canon 055H better than standard-yield Canon 055?
They have no difference in high-quality printing, which can meet your need for cost reduction without cutting quality. However, they only differ in page yield. So if you have a great demand for printing, the high-yield Canon 055H is more suitable. While if you print no very often, you can choose standard-yield Canon 055.

5. What is the validity period of Canon 055 toner cartridges?
Canon 055 toner cartridges are valid for 2 years with original sealed boxes from True Image. 
6. Is Canon Colour imageClass MF741CDW printer worth buying?
Yes. It is an upgraded Canon laser printer, which can print, scan and copy black and white or colourful texts quickly. However, it can do only one-side scanning with a WI-FI direct connection and 600 x 600 dpi resolution. And the largest paper size is up to 8.5 x 14. Besides, with a multi-purpose document feeder and a colour touchscreen on the front, it can do a unique Canon print business. Additionally, it allows for various methods for printing from a mobile device or tablet, such as Apple AirPrint.